Gillette Pushes Its 'Great Start' Olympic Campaign to the Walls
Gillette takes its Olympic message to the walls. The male grooming brands launched an outdoor promotion as part of its 'Great Start' Olympic campaign, created by Abbott Mead Vickers BBDO, in the UK a few days ahead of the launch of the long-awaited sport event. Now, three tower blocks in Stratford overlooking the Olympic Park got giant and impressive visuals featuring the brand's ambassadors Sir Chris Hoy, Liam Tancock and Tyson Gay within their sport activity.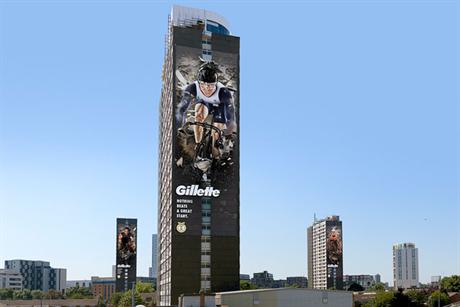 Photo: Gillette's 'Great Start' outdoor visuals, www.campaignlive.co.uk
"Visible from miles around and particularly for the millions who will be in Stratford in the coming weeks, spanning 1,620 metres square, this is the largest single viewed advertising opportunity in the UK. Our agency teams have delivered a real masterpiece that brings our Gillette Great Start campaign, with our fantastic ambassadors, to everyone in London," commented Jared Regan, Gillette brand manager at P&G UK & Ireland.
The 'Great Start' campaign was launched by the brand in May to highlight the role of coaches in the athlete's success. The initiative is rolling out on the official Facebook page of the UK division of the brand, celebrating coaches and raising awareness of the coaching profession among younger people. Gillette launched a dedicated tab on its fan page, where users can submit their applications for coaching qualification grants. Users can apply both for a great start grant for themselves or nominate their coaches until the end of September.
Along with the launch of the campaign in May, Gillette released a report revolving around the coaching theme and featuring highlights and comments from Sports Coach UK, British Olympic Association (BOA), United Kingdom Athletics (UKA); the minister for sports and the Olympics Hugh Roberston MP as well as Gillette ambassadors Jonny Wilkinson and Brian Driscoll. According to Marketing Week, the report included "articles on grassroot coaching, the impact of the London Olympics on grassroots sports participation and the future of sports facilities in the UK."