P&G Will Develop New Tools to Improve Sustainability in Manufacturing
To develop new tools, which will help improve sustainability manufacturing facilities, Procter & Gamble has partnered with the U.S. Environmental Protection Agency and (EPA) National Risk Management Research Laboratory (NRMRL) and signed a Cooperative Research and Development Agreement.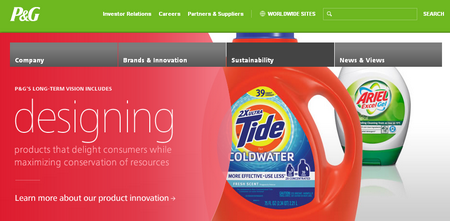 Photo: one of the P&G's commitments, a snapshot from pg.com
This initiative is a part of P&G's long-term environmental sustainability goals, announced in September of 2010. One of the goals is powering its plants with 100% renewable energy. The other include the utilization of 100% renewable materials for all its products and packaging; reducing consumer or manufacturing waste which goes to landfills to zero point; and designing quality products using conservation of resources. The new methods and tools which the partners will develop will help to realize this vision.
For now, the EPA has developed a list of sustainability metrics and performance indicators which are used to quantify sustainability in a manufacturing. Due to its set of manufacturing operations and supply chains, P&G can test how such metrics are used to guide improvement choices. Along with other leading brands, the company now uses 100% recyclable plastic for all its products .
According to the agreement and partnership, P&G's, new modeling and assessment tool will be created and utilized in future product design, material sourcing, and manufacturing options. 
"This is a tremendous opportunity for us to be at the leading edge of developing tools to support the entire company's effort to improve the sustainability of our products and our operations," said Stefano Zenezini, the Vice-President of Product Supply for P&G's business unit. "We've made great progress in areas like energy and water use reduction, but really need these new tools to help guide the increasingly complex choices we will be making as we continue to strive to meet the vision the Company has committed to."