Landor created the original award-winning Sensations package design in 2002. Its distinctive style broke the mold and instantly became the mainstream-premium category gold standard. Sensations grew to be a top 20 brand and consumers quickly became more adventurous and significantly increased their expectations. Competitors were fast to capitalize on this mainstream-premium market. In the past couple of years, Sensations began losing its iconic shelf presence, threatening its position as the category leader.
Challenge
Landor's challenge was to create an updated brand identity for Sensations—to refresh and reinvigorate the brand without it losing its visual equity and leadership status. Seduction and sensuality were required to increase the brand's appetite appeal and consumer interest. The goal was to ensure that the Sensations brand remained the category leader.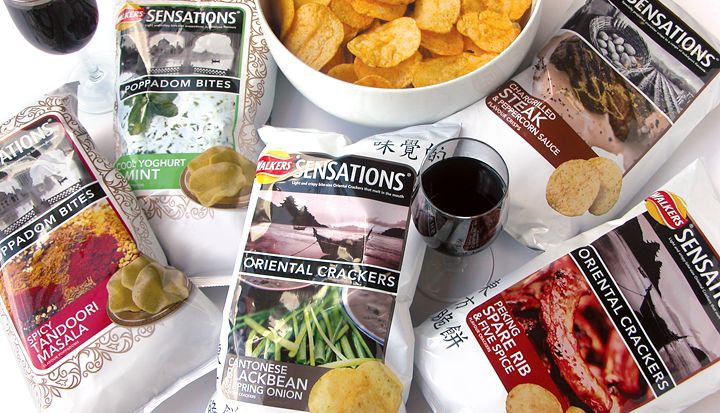 previous design, 2002

new design, 2006
Solution
Landor's solution was to create a brand identity that uses the real ingredients in Sensations crisps as the package's hero. Elegantly photographed cascades of ingredients reference the visual language of cookbooks and communicate the brand's unique layering of new and exciting tastes. The bold design seduces consumers with appetite appeal and reaffirms Sensations as the category leader. The new brand identity was launched at the end of April 2006, and by the end of June 2006 Sensations crisps had already enjoyed a 12 percent increase in sales over the previous year.