Following the modern high tech trend of an 'iPhonization', Miller Lite has lanched its branded app called Beer Time. It simply allows not to waste time waiting for your beer while the bartender can't serve it quickly.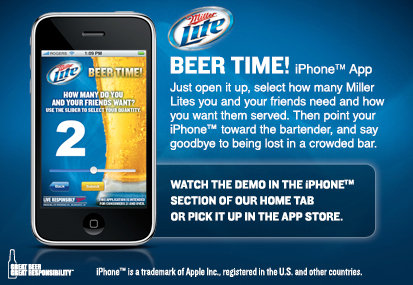 Pic.: a screenshot of the Beer Time application
After you've approved your legal drinking age, you select how you want your Miller Lite served (cans, bottles or on draft). Then you select how many beers you want (from one to eight) and the app begins flashing the number you picked and a picture of how you want the beers served.
This process is quick and easy and the screen is surprisingly visible from a good distance. So Miller Lite has really invented the new way of communication with bartenders.