Coca-Cola considers social media to be one of its main, if not the most important, advertising platforms as for today. The soft drinks producer is making itself comfortable in the area where its loyal and prospective consumers are staying, and they often gather to 'celebrate' manifestations of the brand and get involved into its activities.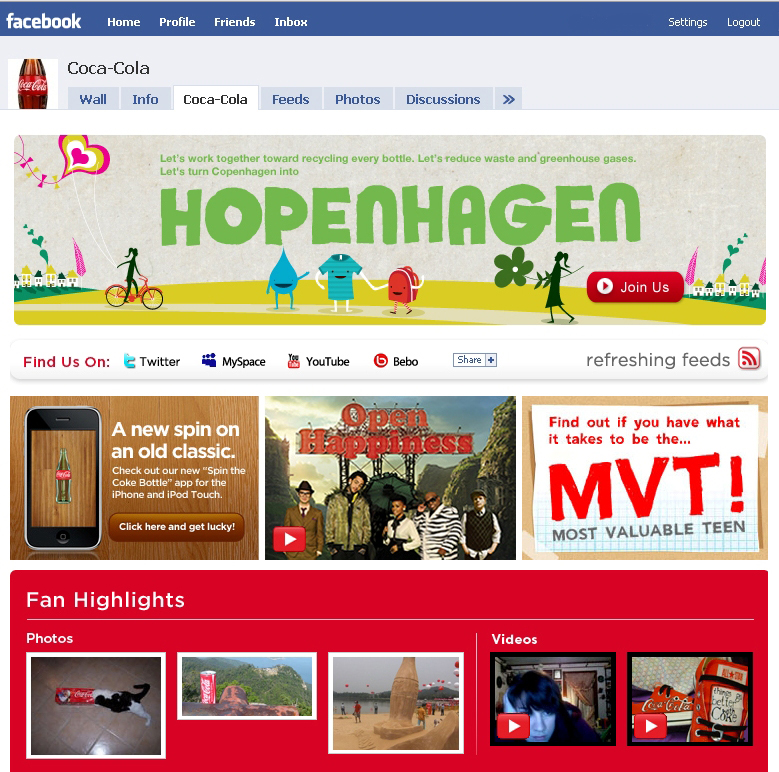 Michael Donnelly, group director of worldwide interactive marketing at Coca-Cola, notes that «social media is where our consumers are at the moment.» The company comes up with more and more projects aimed at reaching customers with gripping campaigns. One of them is Expedition 206 and its three tourists, starting in January 2010, are going to employ a wide range of various social media websites to tell about their experience while travelling around the world.
As for now the soft-drinks maker has more than 4 million fans of its Facebook page and this number is growing. Why do people add Coke as a friend? The main reason is not to a get a discount voucher, or pay less in some other way, but to share photos and opinions through the page with other supporters. Coke doesn't need to pay for affection to its brands, Donelly says. People come to the community just because they have fun there.
Donnelly even made a «tag cloud» from random 750 messages, which were posted by members of Facebook, and it turned out that the word «love» was mentioned three times more often than any other one. With these encouraging results, the company is going to make it big at MySpace, Twitter, Flickr and YouTube. The more options the brands and the users will have, the better.
Still the spendings on this kind of promotion are rather little. But the company is going to expand its presence in the virtual reality and allocate more money for the purpose. «We're in the process of building out our platforms and the tools we need to amplify our programs,» Donnelly shared.
www.popsop.com, data sourced from www.emarketer.com