In anticipation of James Cameron's AVATAR hitting theaters December 18, McDonald's plans to create a flood of excitement prior to the movie's launch and the company's in-restaurant promotion with a special sweepstakes incentive for Twitter followers: the chance to win a Big Mac Lunch and private screening of the movie with Academy Award-winner Jon Landau, producer of AVATAR.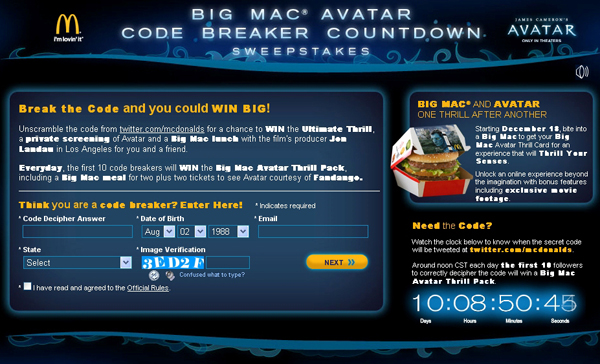 Starting yesterday through December 17, McDonald's USA launches the #BigMacAVATAR Code Breaker Countdown on Twitter, asking @McDonalds followers to decode a series of daily word scrambles that relate to McDonald's and/or the movie. The first 10 players to solve the code by entering their answers on the codebreakercountdown.com page will win a «Big Mac AVATAR Daily Prize Pack» including two Big Mac sandwich Extra Value Meal Be Our Guest cards, two AVATAR movie tickets courtesy of Fandango, and other Big Mac and movie-themed prizes. All participants who submit correct answers during the 11-day pre-promotion will be entered for the chance to win the grand prize private screening hosted by Jon Landau for the winner and a guest, to be announced in January.
McDonald's USA Big Mac-AVATAR promotion will launch in participating U.S. restaurants on December 18, coinciding with the debut of the epic adventure from Twentieth Century Fox. At that time, with the purchase of a Big Mac, McDonald's customers will gain access to cutting-edge digital experiences that will allow them to explore the world of AVATAR, brought to them exclusively by McDonald's.