McDonald's is plotting to lure more customers with its new service —free wireless Internet access at its U.S. restaurants. The step is made in accordance with the new policy of the fast-food chain's transformation. The food brand is going to become a third place in its customers' lives after home and work.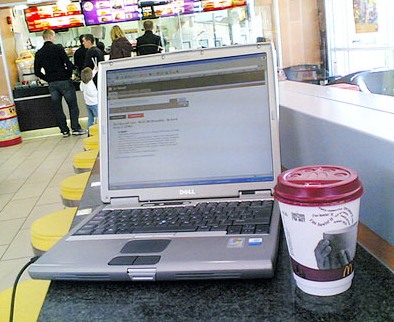 This year the brand introduced the McCafe, McDonald's premium coffee line, driving a number of clients out of Starbucks to its fast-food restaurants. The green-logo coffee-chain is also offering Internet access to its consumers, but the price is $3.99 for two hours, with McDonald's now taking a $2.95 fee for the same.
Starbucks is not showing signs of cutting the prices, but the huge snacks producer is planning to make web-surfing totally free for the customers starting in mid-January. The new service will be available in about 1,000 of its 14,000 domestic locations in the USA.
«We're not just about hamburgers,» said Dave Grooms, chief information officer for McDonald's USA. «We are about convenience and all kinds of value.»
Now Starbucks has to do something to keep its feet and preserve old customers and maybe even win new ones after all these trips from McDonald's with its free Internet and Nescafé with it's A Lot of Hype campaign.