Mountain Dew Throwback has come out with a series of mini-challenges to keep the consumers tuned in. The prize is a limited-edition DEW gear, the drink with real-sugar that gives energy and creative inspiration.
As for now the brand opened three small-scale contests at Facebook: Willy & Me, Old-School Diner and Mtn Dew Throwback Posse. They have different dates of closing, but relate to the brand's main character and/or the retro theme. One of them finished yesterday.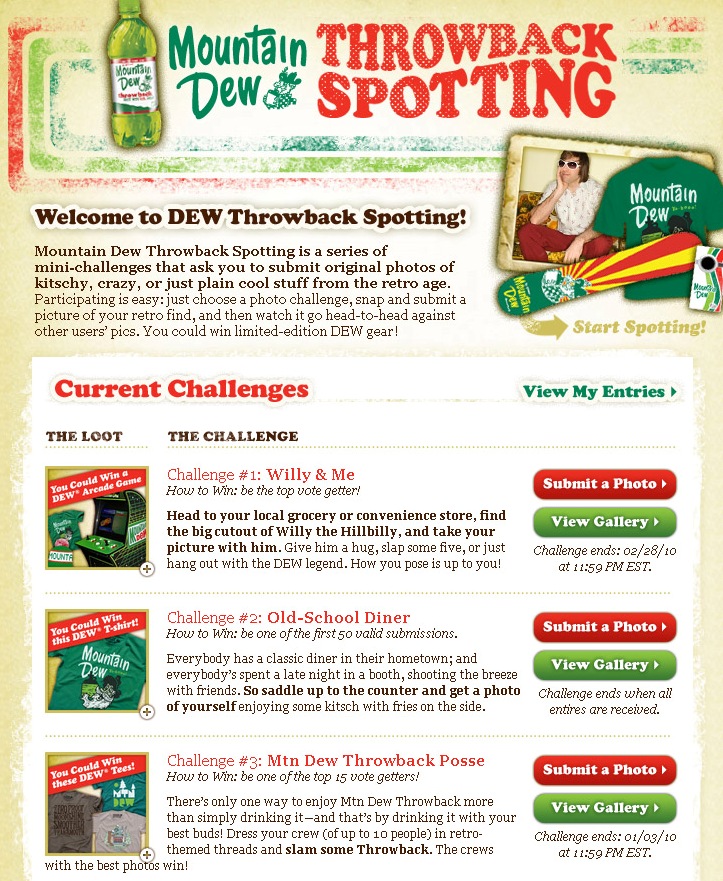 Those who want to participate in contest #1, Willy & Me, are to go to a local grocery or convenience store, find the big cutout of Willy the Hillbilly, and take pictures with him in any pose they want. And afterwards they have to upload the picture, of course. This challenge ends on February 28, and the winner will be determined by voting.
The contest #2, Old-School Diner, ends as soon as there will be 50 valid submissions, and each of the entrants gets the prize. The participants have to upload a photo of themselves enjoying some food during a classic dinner.
The challenge #3, Mtn Dew Throwback Posse, finished yesterday, January 3. The top 15 vote getters were among those who dressed their crew of up to 10 people in retro-themed threads and slammed some Throwback.
The number of nice and simple contests for promoting the brand's 'retro' image is definitely going to grow with the new competitions coming soon.