Puma wants people have a 'green' attitude to the world. To raise awareness of environmental problems the global brand has launched a new book, which is published especially for 12 African nation football teams Puma is sponsoring, as well as their coaches, fans and media.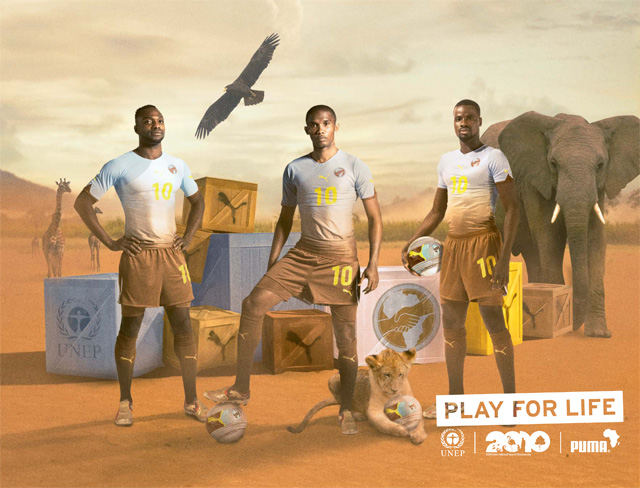 The kit contains information on endangered animals and species conservation. The Africa was chosen to be the key theme of the book because this continent has 9 of the planet's 35 Biodiversity hotspots with most threatened flora and fauna. Now the rates of the species extinction are huge, and estimated 34,000 plant and 5,200 animal species can  disappear if nothing is done to battle the problem.
The company has signed the 'Play for Life' partnership with  the United Nations Environment Programme, and now they are rendering the informational support to the 2010 International Year of Biodiversity. The money raised with the help of selling the replica fanwear for the Unity Kits will be donated to the ecological sphere: it will support biodiversity programs on the hot continent.
"In 2010, Africa will be at the centre of the footballing world.  The 'Play for Life' campaign and the release of the Africa Unity Kit is a powerful statement for PUMA. PUMA is creating a unique kit embracing the diversity of African Nations teams while valuing the unity of players and supporters towards a common goal," said Jochen Zeitz, Chairman and CEO, PUMA AG who helped launch the Africa Unity Kit. "Biodiversity and therefore valuing and protecting all life on our planet is a huge issue, not only in Africa, but around the world — and we are proud to partner with UNEP to raise both awareness and funds through the sale of our Unity products."