Doritos tortilla chips and Major League Gaming (MLG) unveiled the Pro-Gaming Combine – the first-ever nationwide skills challenge in competitive video gaming history. Starting on February 23 video game pros can log on to www.doritoscombine.com and purchase team passes from MLG for the debut Doritos MLG Pro-Gaming Combine in Nashville March 26-28, 2010.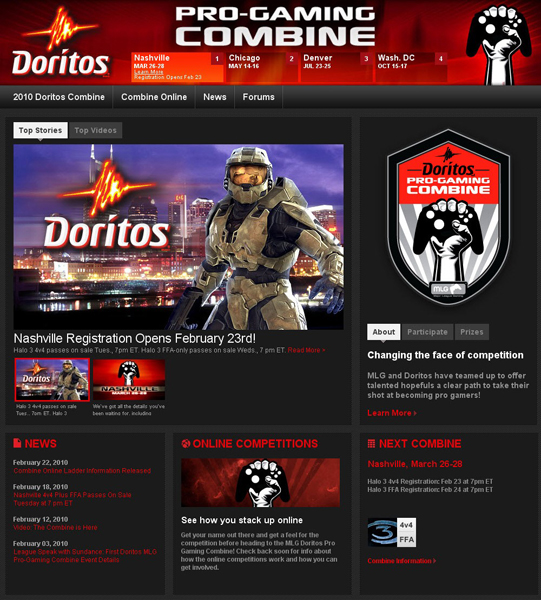 Passes for individual players go on sale on February 24, 2010. Starting next week fans can also begin to test and hone their skills online in preparation for the first Combine event. The Doritos MLG Pro-Gaming Combine is a first-of-its-kind initiative, bringing together thousands of amateurs with MLG Pros and League officials across America. The partnership provides aspiring gamers with a rigorous testing ground that showcases their skills and an opportunity to further gain exposure through MLG's thriving community of players.
At each three-day Combine, more than 1,200 players will be evaluated by the League in key areas including: slaying power, teamwork/communication, leadership, objective play and support play. Players who exhibit superior performance in those categories will be called out for more rigorous evaluation by the MLG Scout Team. Throughout the weekend, players and spectators will have an opportunity to jump into a game with MLG's Pros and Scouts to show off their skills. A total of eight Combine winners will be chosen, which will consist of the top four-person team and four individual players.