Three players. One cover. Fans choose. In a bold move to give diehard Madden NFL fans ultimate control of their gaming experience, Doritos tortilla chips and EA SPORTS announced that for the first time in the 21-year history of the franchise, the Madden NFL 11 cover athlete will be determined by consumer votes.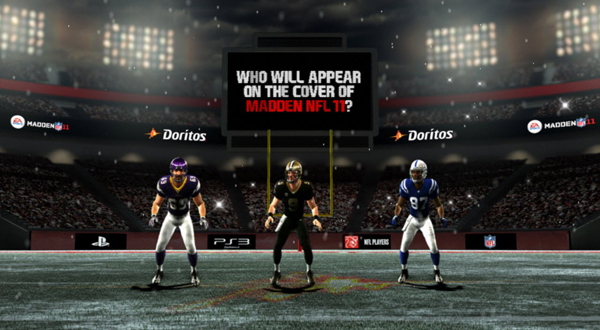 Starting yesterday through March 15, fans can log on to www.doritoschangethegame.com to vote daily for one of three nominees for the Madden NFL 11 cover:
* Jared Allen – Defensive End, Minnesota Vikings
* Drew Brees – Quarterback, New Orleans Saints
* Reggie Wayne – Wide Receiver, Indianapolis Colts
To inspire fans to get out and vote for the next Madden NFL cover athlete, consumers can collect limited-edition Nacho Cheese and Cool Ranch Doritos bags featuring former NFL all-stars and Madden NFL cover legends Eddie George, Marshall Faulk and Shaun Alexander, available in stores nationwide now. The Doritos and EA SPORTS partnership will extend throughout 2010 and include additional surprises and special offerings surrounding the winning cover athlete and game release.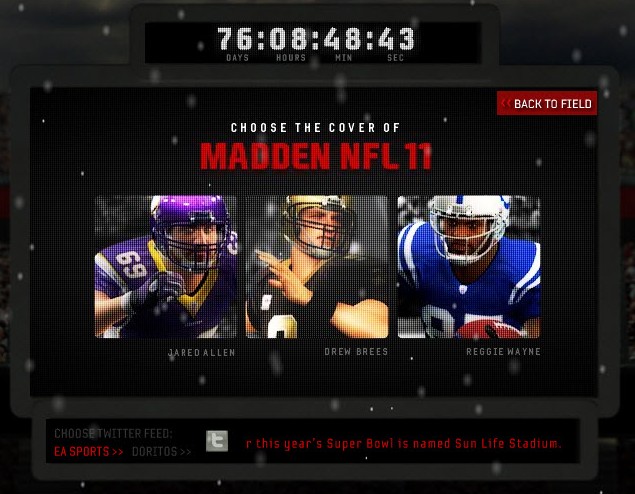 Voters also will be entered in a drawing for a chance to win a trip to the 2010 NFL Draft, for the exclusive cover unveiling of Madden NFL 11 and dozens of other prizes.
The partnership between Doritos and EA SPORTS for Madden NFL 11 is one of many ways the Doritos brand continues to bring its fans access to unparalleled experiences. The brand's commitment to fan-empowerment began with the Doritos «Crash the Super Bowl» program, which has turned the brand's Super Bowl advertising over to its fans for the last four years.