Canadians are finally being given the opportunity to have their digital footprint measured and their social status quantified, with the help of a first-of-its-kind Doritos challenge – Doritos Viralocity.
Launched on February 14, the Doritos Viralocity Contest is a nation-wide initiative that asks Canadians to name the newest Doritos unidentified flavour, create a 60 second online video about what that flavour inspires in them and make it go viral. The person with the highest Doritos Viralocity score is eligible to win $100,000 cash and an additional $150,000 should they achieve 10,000,000 point Maximum Doritos Viralocity Bonus.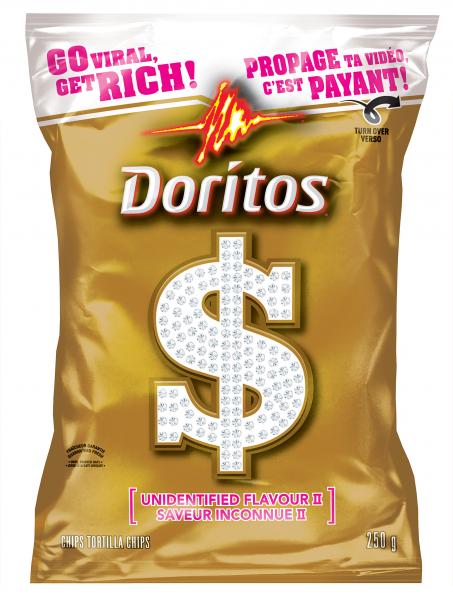 The winning entry will be determined by the final Doritos Viralocity score as based on the entrant's ability and effort to make their entry go as viral as possible. A custom-designed algorithm, as verified by 10 th Power Technologies Corp., will calculate each entry's Doritos Viralocity score as of 11:59:59pm ET each night during the contest. The measurement algorithm is a way of calculating how viral a video has become by pulling and compiling data from internal and external sources like Google, YouTube, Facebook, Twitter, Digg, and AddThis.
Another unique twist about this year's Doritos program is the prizing structure. Instead of just one winner, the top 344 entries (as measured by their Doritos Viralocity score) will be eligible to win prizes of varying amounts of cash that correspond to their ranking.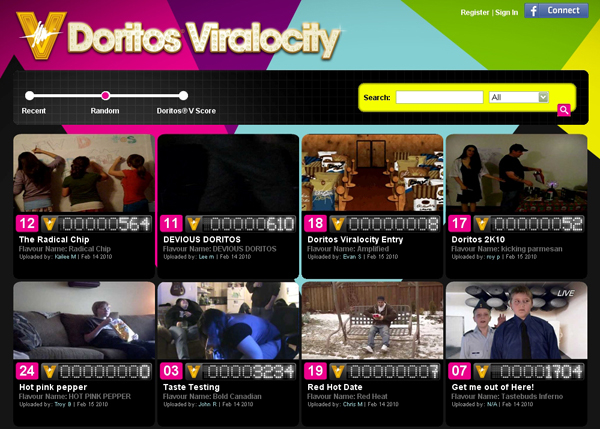 The new, Doritos Unidentified II flavour is available in distinctive gold bags at retailers across Canada, and contest submissions are being accepted at www.doritosviralocity.ca and www.doritos.ca from now until March 21, 2010. While each submission must be in video format, a maximum of 60 seconds in length and include the proposed new flavour name, the way that entrants showcase their inspiration is open – dance, comedy, digital, painting – almost anything goes as long as it's engaging, entertaining and unique.