Tide introduces Tide plus Febreze Freshness Sport, a new detergent designed to help remove tough stains and odors from garments that take the hardest hits. New Tide plus Febreze Freshness Sport is the number one sports detergent for stain removal and it eliminates odors. Tennis superstar and apparel designer, Venus Williams was invited to join the ad campaign.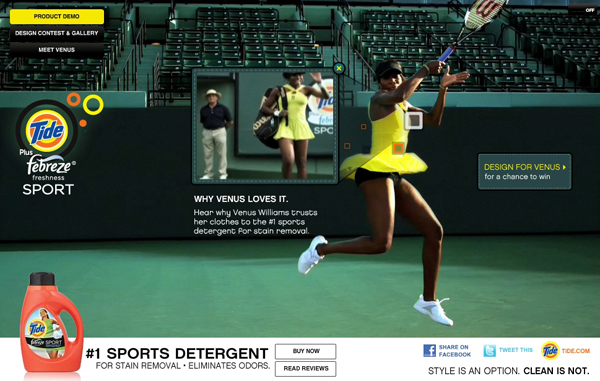 «This product was developed to help address the torture test cleaning and freshness challenges that some of the new technology fabrics for active wear present. Because this product can help solve tough cleaning and freshness issues, it also works well on all loads of laundry. Venus is the perfect ambassador for Tide plus Febreze Freshness Sport because she and Tide share the belief that being able to keep clothes clean and fresh should never come between you and your style – on or off the court,» said Suzanne Watson, Associate Marketing Director, North America Tide.
Tide plus Febreze Freshness Sport leaves your active wear smelling fresh, eliminating the need to purchase specialty products or launder active wear separately, as it works well on active clothing as well as regular loads. Additionally, the technology in Tide plus Febreze Freshness Sport releases freshness as you move.
In addition to appearing in television, print and in-store advertising, Venus Williams will be featured prominently on the Tide plus Febreze Freshness Sport website at www.tide.com/Venus in a promotion that challenges consumers to design a tennis outfit for tournament play. The winning look will inspire an outfit that Williams will wear at a major tennis tournament in 2010. There's no purchase necessary and the contest begins on February 5th, 2010 and will end on May 7.
Beginning February 2010, Tide plus Febreze Fresh Sport will be available nationwide.