As part of an ongoing creative collaboration with JAY-Z and Madison Square Garden Absolut Vodka introduces "NY-Z"—a 14-minute short film featuring JAY-Z and directed by popular music and culture photographer Danny Clinch.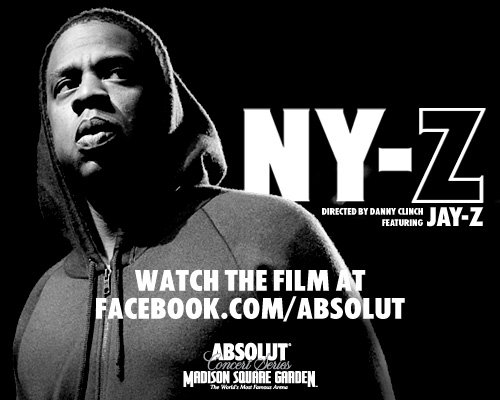 Featuring exclusive footage of JAY-Z and John Mayer as they prepare for the September 11 benefit concert at MSG, NY-Z offers a rare glimpse into the life of native New Yorker Shawn "JAY-Z" Carter as he discusses his hometown and what it means for an artist to "arrive" with a performance at the world's most famous arena. The short film is available for viewing at facebook.com/ABSOLUT. Earlier this month a trailer was released.
In September 2009, Absolut and Madison Square Garden announced the Absolut Concert Series, a sponsorship dedicated to giving music fans the ultimate concert experience through a series of high-profile performances—ranging from rock and roll to country. To kick off the series, JAY-Z put on a one-night-only concert on September 11 with surprise guests (Mary J. Blige, Kanye West, Beyonce and Rihanna among them) to benefit the New York Fire and Police Widow and Children's Benefit Fund. The film marks yet another unprecedented collaboration for the spirits brand in a long line of artistic partnerships dating back to the 1980s when Absolut engaged pop culture icons, such as Andy Warhol and Keith Haring.
"NY-Z is a great product of the collaborations behind the Absolut Concert Series," Danny Clinch, Director of NY-Z said. "As the director, the creative spirits behind ABSOLUT and two iconic NY brands, JAY-Z and MSG, allowed for such a natural and seamless foundation, that the rest was really about celebrating New York through JAY-Z's eyes and exploring the notion that you have truly 'arrived' as a performer when you are playing at the Garden."
Film Credits:
Director: Danny Clinch
Executive Producer: Mark Figliulo
Executive Producer: Matt Bijarchi
Executive Producer: Ian Crystal
Producer: Lindha Narvaez
Creative Director: Hoj Jomehri
Creative Director: Thiago Zanato
DOP: Vance Burberry
Editor: Paul Greenhouse
Agency Producer: Julia Menassa
Executive in Charge of Production : Hugo Murray
Music Supervisor: Susan Schwartz/ Platinum Rye
Production Company: Milkt Films
TBWA\NEW YORK
President: Jamie Gallo
Chief Creative Officer: Mark Figliulo
Executive Producer: Matt Bijarchi
Creative Director: Thiago Zanato
Creative Director: Hoj Jomehri
Producer: Julia Menassa
Group Account Director: Colby Webb
Management Supervisor: Hugo Murray
Planning Director: Sarah Watson
Executive Digital Director: Devrin Carlson Smith
Director of Production : Robert Valdes
Creative Technology Director: Chris Kief
Media Arts Producer: Amber Wimmer
Flash Team Lead: Dima Farer
ABSOLUT
Brand Director: Ian Crystal
Brand Manager: Troy Gorcyzca