Coca-Cola North America wants everyone to join "fins" in a new Facebook campaign to raise awareness of Earth Month and help support Ocean Conservancy, the nation's oldest and largest marine conservation organization. Through a new Facebook application, users can "oceanize" themselves into a playful underwater photo.
For every person who dives into this new app, Coca-Cola will donate $1, up to a total of $200,000, to support Ocean Conservancy's marine debris program identifying policies and solutions to preventing trash from reaching our ocean and waterways. Also, through the Company's MyCokeRewards points program and a direct donation-matching program through LivePositively.com, Coca-Cola will contribute up to an additional $50,000.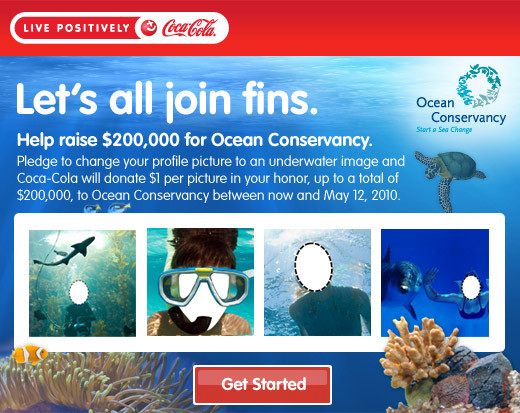 Facebook users will be able to use this new application by visiting www.livepositively.com/joinfins to create fun underwater images, share and embed them within their own profile pages, and also share them via the site's status update newsfeed. The "oceanized" images can be saved to a "Let's All Join Fins" photo album, which ultimately can be shared with Facebook friends.
The campaign reminds people that "71% of the Earth's surface is ocean. Shouldn't 100% of it be clean?" The new advertisements invite consumers to support the cause by donating their time, money or MyCokeRewards points to Ocean Conservancy and lets them know that Coca-Cola will honor their commitment with a contribution.