In honor of the 40th anniversaries of both Earth Day and Finlandia Vodka, Finlandia is releasing limited edition charity water bottles featuring designs by Klaus Haapaniemi, a world-renowned Finnish graphic artist dubbed as one of the most important rising stars in illustration and design.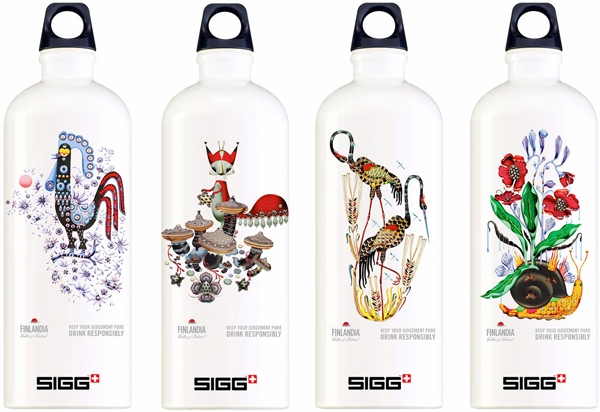 Each design represents one of Finlandia Vodka's core elements: the Midnight Sun, untouched nature, six-row barley and pure glacial spring water. These one-liter SIGG® water bottles will sell for $28 U.S. and Finlandia will divide all profits among four global environmental projects selected to promote sustainability beyond the brand's distillation footprint. This cause-marketing program is an early step in a new, concerted effort to explore sustainability and the brand's harmony with nature.
From left to right: «The Very Tired Rooster» representing the Midnight Sun, which shines for 73 days straight in the north of Finland; Untouched Nature represented by a Norse mythological character, «Ratatosk», the red squirrel; Six-row barley featuring «The Cranes» walking in the barley field; Representing Pure Glacial Spring Water, «Thiaridae» freshwater snail.
These limited edition Finlandia water bottles will be available on May 3 for purchase at www.finlandiawaterbottle.com.