The global coffee chain Starbucks is kicking off two campaigns simultaneously — for its Frappuccino beverages and Via instant coffee. The promotional movements for Starbucks are developed by creative shop BBDO (New York), media agency PHD (New York), and digital shop Blast Radius (Vancouver). It is the first time the company launches two projects one after another in such a showrt period of time.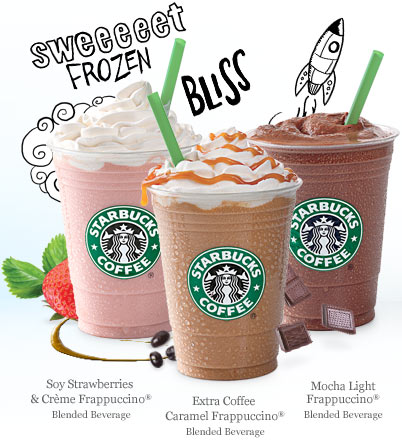 Chris Bruzzo, VP-brand, content and online, comments, "It's the next level for Starbucks. It's a level of integration and activity in the marketplace that is much more significant than we've ever done before." Now the company's revenues are growing (last month the gains were 7% stronger), so it was just the right time to make a new advertising step and move forward. Mr. Bruzzo added that Starbucks "will continue to go to market" in "our unique way which leverages the Starbucks brand, the experience that our customers have with us, the relationships that they have with our partner in our stores," and "the kind of relationships we have with customers online."
The company is turning to "digital and earned online experiences," which are now put in the first place on the list of the advertising tools. The promotional project for Frappuccino is targeted at young people, 18- to 29-year-olds, while the Via campaign is tailored to the consumers in the age of 18-59.
The campaign for Frappuccino, ice-blended cappuccino beverage, with soy or non-fat milk and various flavors or sugar-free syrups, revolves around customization of the drink. On the website www.frappuccino.com consumers can create a picture with their favourite product, launched back in the mid-1990s. AdAge reports that Starbucks together with the CW channel launched an online contest to blend "Gossip" show footage, images of Frappuccino ingredients, and music into one advertisement. Consumers can express their love for Frappuccino at the http://cwtv.com/blendups, where they will find elements to create their submission. The winning video will air during the "Gossip" season finale.

The second campaign, developed by BBDO is much "quieter". The agency has shot several ads — "Know It All," "Single and Loving It" and "Ladies Man," — which are to be launched today, on Friday. The idea is to demonstrate that people of various professions can use different coffee cups at the office, but Via instant coffee, launched last fall, will perfectly fit each of them. The new product will hit the shelves of more than 37,000 retail locations in the U.S. by the end of June.