MillerCoors LLC is encouraging to collect bottle caps and can tabs and at the same time to benefit veterans that have served in Iraq and Afghanistan. Via their Miller High Life brand and in cooperation with the Iraq and Afghanistan Veterans of America the company has created a campaign named "Give a Veteran a Piece of the High Life" focused on collecting the recyclable items in an effort to raise a contribution up to $1 million.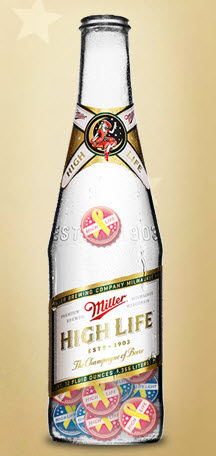 With this project, the Chicago based beer giant will donate 10 cents for every bottle cap or can tab that is specially marked on Miller High Life and Miller High Life Light products. Consumers can return the items to participating retailers and benefit those brave men and women that have served this country in the recent conflicts.
"Miller High Life is all about standing up for common sense and nothing makes more sense than helping veterans live the High Life," said Miller High Life brand manager Joe Abegg.
The company's partner on the program, the Iraq and Afghanistan Veterans of America, is a non-profit group dedicated to the improvement of life for former military members and their families. The group continues to educate the public about the two wars and being a voice for these former servicemen and women.