It began by giving consumers an unprecedented opportunity to choose who they wanted as the Madden NFL 11 cover athlete. Now, as gaming and sports fans alike wait in anticipation for the release of Madden NFL 11 on August 10, Doritos tortilla chips is unleashing two new limited-edition flavors inspired by the legendary video game franchise—Stadium Nacho and Tailgater BBQ.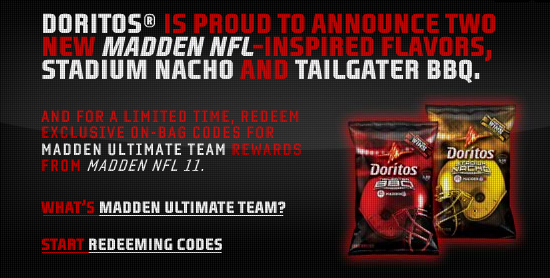 The special Madden-inspired Doritos were developed using Frito-Lay's cutting-edge FlavorPlus technology, which replicates the timing of how a flavor is released during consumption—from the smell and taste all the way to the texture—to deliver a truly authentic flavor experience.
Continuing its commitment to gaming fans, Doritos is also offering an exclusive chance to collect Madden Ultimate Team packs and coveted player cards with every Stadium Nacho and Tailgater BBQ bag purchase. For a limited time, consumers can redeem on-bag codes for online Madden Ultimate Team rewards and Madden NFL 11 prizes.
Stadium Nacho and Tailgater BBQ are an extension of the Doritos «Change the Game» partnership with Electronic Arts. Doritos «Change the Game» allowed fans for the first time ever to pick the cover athlete of a Madden NFL game, for Madden NFL 11.
The limited-edition Stadium Nacho Doritos and Tailgater BBQ Doritos are available nationwide in the following sizes, 11.5 ounces for $3.99, 2.875 ounces for $1.29 and 2.125 ounces for $.99.