On June 11, the day when the World Cup 2010 kicked off, Umbro launched its colourful contest called "Spirit of South Africa", inviting all of its fans to capture the spirit of the championship (both in their countries and on the spots where the matches were actually played). The quality of the image or the place, where the snap was taken, was optional, the main thing about the work was that it was supposed to embody the spirit of the festive sport season in the best way. With the tournament over, Umbro is glad to announce the winners.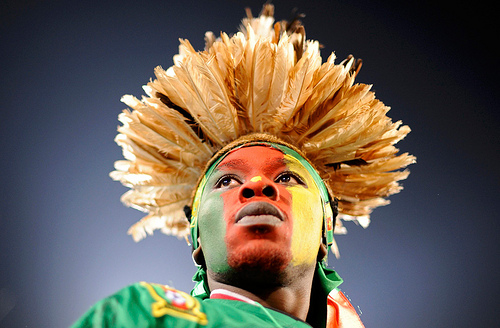 Image Courtesy—»Cameroon» by Vic_Beat
The participants were to post their works to the dedicated group Spirit Of South Africa on Flickr by July 14, and wait to be shortlisted by a panel of judges including the Umbro team and top international photographer Stanley Lumax. From over a thousand of awesome pictures of high art and quality standard (all of them can be viewed on the Flickr group now) the experts chose Vic_Beat and his photo featuring a fan, "waiting for the start of a World Cup Group E soccer match between Cameroon and Denmark at Loftus Versfeld stadium in Pretoria June 19, 2010."
The grand winner will watch the England Team train and become Umbro's official photographer at Wembley for the England versus Bulgaria Euro qualifier. To capture the most interesting moments of the upcoming event, he will receive Sony NEX 5, the world's smallest pro-quality camera. The major expert of the contest, Stanley Lumax, also named 4 runner ups (below) who will be awarded with branded Umbro prizes.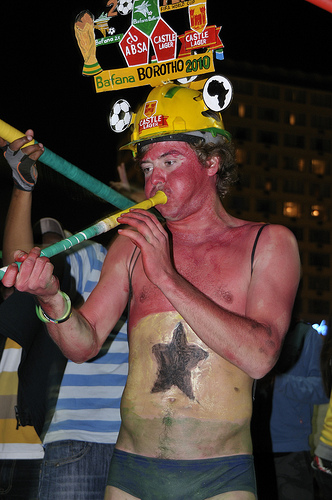 Image Courtesy—»Fan Fest Ghana v Uruguay» by Chris Bloom
Image Courtesy—»Germany vc Fan» by Rapidgamer03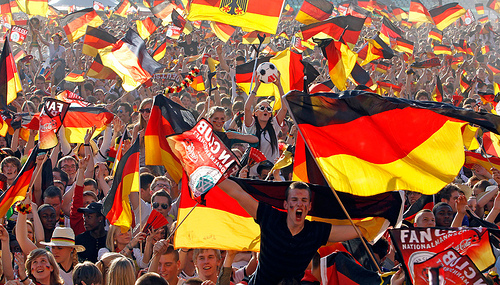 Image Courtesy—»Supporters of Germany» by Vic_Beat
Image Courtesy—»Netherlands vs Spain» by Shroton