Campbell Soup is enlisting the power of NFL pros to create a game-winning strategy for dads who struggle for eating right and being active. To address this challenge, Super Bowl winners Tony Dungy and Jerome Bettis are teaming up to launch the Campbell's Chunky soup "All Pro Dad" pledge, which encourages dads to make small changes that can make a big difference at home.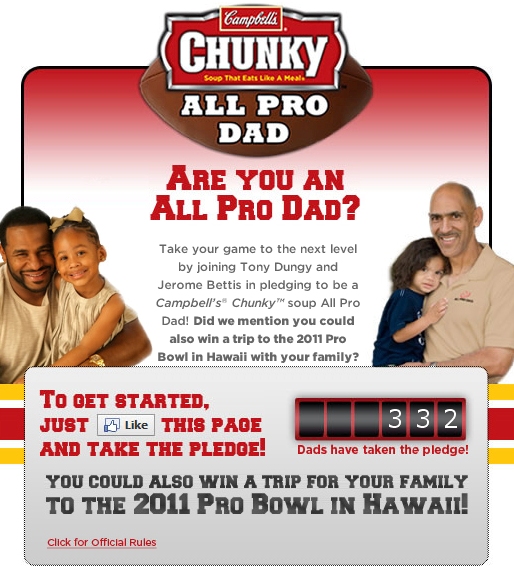 Dads that take the Pledge will also have a chance to enter to become one of five Chunky All Pro Dads that will attend the 2011 Pro Bowl, to be held in Hawaii on January 30. The participate asks dads to do just two simple things each week that can make a big difference:
1) Eat a wholesome dinner with their family
2) Do something active with their kids
In addition to being one of the NFL's most successful coaches, Tony Dungy founded the All Pro Dad® organization to provide men with the resources and encouragement they need to be better fathers. Built on a football theme, All Pro Dad features more than 50 NFL players, coaches and alumni who speak on the importance of being a good father.
To take the Chunky soup All Pro Dad Pledge, dads can log on to www.Facebook.com/ChunkySoup.There, fathers can share their own personal tips on how to be a Chunky All Pro Dad and see what other dads do to stay in the game. Visitors can also enter for a chance to win a family trip to the NFL Pro Bowl.