Doritos Australia has eventually named the winner of its "Doritos Make an Ad, Make a Fortune" national contest, which started in May. For the second consecutive year, the brand in cooperation with the Sydney-based Clemenger BBDO agency was encouraging creative minds from all across the country to enter the competition and become rich by creating a funny 29-second ad about Doritos. This year's winner, 21-year old Alex George, managed to win the heart of the judges and voters with his 'Tasmanian' commercial and received $30 as the prize for sharing a piece of his creativity with Australia.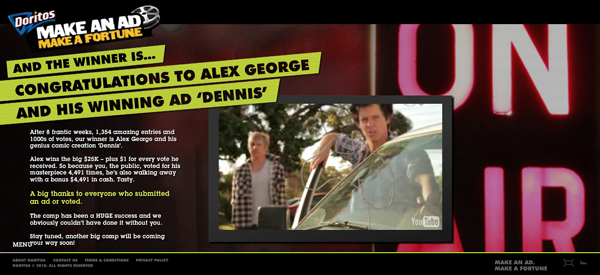 This August, the panel of judges viewed 1,350 entries, uploaded during the submission period, and shortlisted them to just three spots, which were then put to public vote at www.doritos.com.au. The best commercials, selected by the judges, feature а chip, which is eating itself on a deserted island; a Beatboxer who can play the triangle percussion and interweave chips sounds into his weird music; and finally a guy, who adores everything related to Australia and loves Doritos chips because they are 'Tasmanian shaped.' Flaming patriotism did its part, and the last one became the viewers' favourite and won it all on September 13.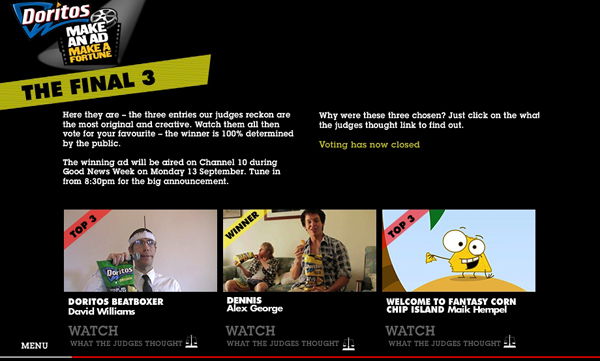 The prize fund included $25,000 plus $1 for every vote, which the finalist got—the maximum total amount of the grand prize was $50,000. The runner ups also received nice prizes (total value of each gift set was over $11,000) from the contest's sponsors. The jury also chose seven worthy works, which didn't become finalists, and awarded their creators with $2,000 to be used for attending a film production course.