AXE has kicked off a massive campaign revolving around the "Less female friends, More women" tagline for the new product, AXE Ex-Friend, launched on the South America market. This time, one of the most sexism-driven brands in the world is employing the theme of male and female friendship and is highlighting the highly debatable notion that girls are not for being friends with, but to sleep with.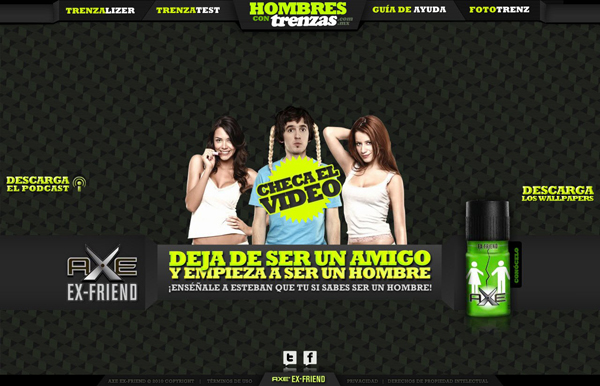 AXE launched the website called "Hombres con trenzas" ("Men with braids") in Mexico dedicated to guys who are not acting like a macho, but prefer to be a girl's friend and give her towels in the bathroom, wipe out tears when she's broke up with her boyfriend or even spend a night in the same bed without even thinking of any sexual relationship. Having become a part of the ladies' company, these guys get pure female features like braids. Some of them are 'lost' forever, but there's a hope to rescue the rest and return them to the world where men see women only as sexual objects. The visitors are also encouraged to share photos of friends who have female mates (in the stills they get 'upgraded' with braids) and images featuring examples of 'ideal' relationship—when a guy is surrounded by ladies.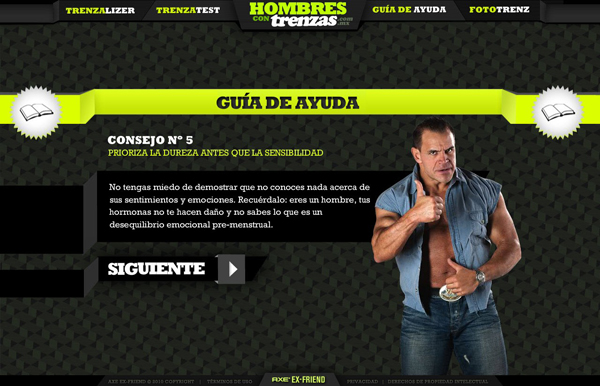 Shy and modest (and somewhat miserable) Esteban, accompanied by several hot gals who do not think of him as of a real man, is the vivid example of what guys may become if they don't stop being friends with girls. The brand invites visitors to the hub to test how girlish they are and read some tips from Rudo, a very harsh man (of the kind the girls are supposed to love, AXE believes).  This campaign is also running on Facebook.
In Argentina, the brand released two funny adverts featuring guys who treat girls as their friends (zip up the dress and pull their blanket if it slides down). One day a huge man comes up to them and gives AXE Ex-Friend—they spray it over the chest and everything gets back to order.