Hershey's Bliss Chocolates kicked off Breast Cancer Awareness Month as the presenting sponsor of the seventh annual YSC Tour de Pink—a four-day, 220-mile bike ride benefiting Young Survival Coalition (YSC). On October 1, more than 200 breast cancer survivors and supporters began pedaling from Hershey, Pennsylvania, to New York City, raising funds and awareness for YSC—the premier international organization dedicated to the critical issues unique to young women and breast cancer.
This year, the ride will expand to also include a three-day ride from Newbury Park, California, to Malibu, California on October 29—31. Hershey's Bliss Chocolates also is honoring young survivors by featuring four women and their survivor stories on www.hersheysbliss.com. In honor of Breast Cancer Awareness Month, Hershey's Bliss Chocolates will donate $300,000 to YSC, raising awareness for breast cancer and funding critical programming and education.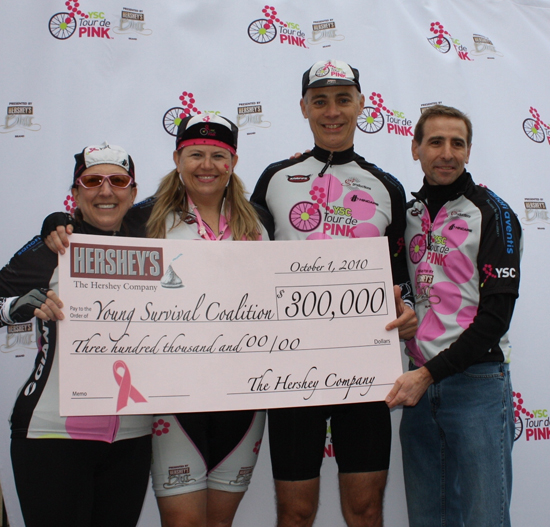 "Hershey's Bliss Chocolates is proud to continue The Hershey Company's support of Young Survival Coalition as a presenting sponsor of this year's charity bike rides," said Michele Buck, Senior Vice President, Global Chief Marketing Officer, The Hershey Company. "Breast cancer is a disease that touches the lives of many Americans. Hershey's has donated more than $1.75 million to YSC over the past six years and we invite everyone to join us in support of the cause."
Consumers across the country also had the chance to get involved by joining the YSC Tour de Pink presented by Hershey's Bliss Virtual Charity Ride. The Virtual Ride challenged consumers to pedal 220 miles in their own community, logging efforts and raising funds for YSC online.