Kraft Foods is inviting all moms, who are looking for a good chuckle to start off the week or need a laughter-noon break before their duties as carpooling diva begin, to watch a new series of hilarious webspots featuring comedian Anita Renfroe. They can log onto YouGottaLOL.com every Monday morning and catch a new episode of «You Gotta LOL,» a hilarious new online video series sponsored by 14 Kraft Foods brands including Maxwell House, Oreo, Kool-Aid, Wheat Thins, Chips Ahoy! and Jell-O.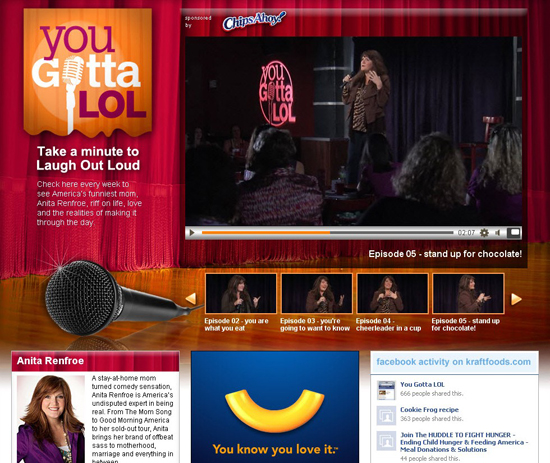 From her side-splitting «you might be a mom if?» theories to her clever observations on clothing sizes and where forks and knives should be placed, Anita's «snack-sized» videos have the audience doubled over with laughter as she riffs on life, love and the joy of eating in a hysterically family-friendly way.
A stay-at-mom turned actress/comedian/author, Anita has established a huge fan base of women with her honest, relatable and «estrogen-flavored» sense of humor she projects in her comedy concert tour, DVD, book, and her YouTube channel. In the videos, Anita goes on the most actual topic for the modern moms like diets, bringing up babies or love to chocolate. In the episode, sponsored by 100-calorie Cheese Bites, she jokes, "I have to say, I struggle with my weight. And any woman who says she doesn't struggle with her weight is, in the most kind, political terms I know, 'a lying liar,'" she says. In another spot focused on women's obsession with chocolate, Renfroe says, "All females have known this intuitively for years because chocolate belongs to the four food groups that females believe in: depression, elation, ovulation and PM-ation."
The «You Gotta LOL» video series was produced and directed by Meredith Integrated Marketing, a division of Meredith Corporation, publisher of Better Homes and Gardens, Parents, More and Family Circle, among others. To date, there are five episodes on the site, with 13 more to come in the following weeks. The spots are hosted on Kraftrecipes.com as well as on YouTube.