International Design Consultancy P&W has enjoyed further success at the Pentawards this year. The consultancy's range of Kids cereals for Tesco's fast-growing US chain Fresh & Easy Neighborhood Market has won a bronze Pentaward, presented at the official Pentawards ceremony at the Shanghai EXPO 2010. The three-strong range, Cookie Bites, Cocoa Sharks and Apple & Cinnamon Smiles, is designed to achieve cut-through in a category replete with bright colors, artificial flavors and cartoon characters, including well-known licenses such as The Flintstones, and TV «stars» such as Count Chocula.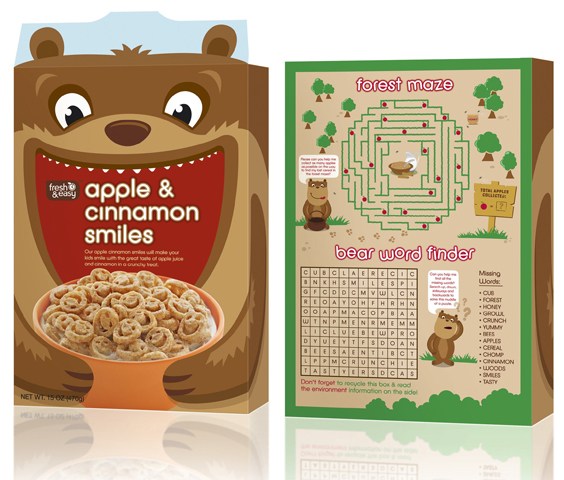 The Fresh & Easy products are free of artificial colorings and flavors and contain less sugar than many of the mainstream brands, but we wanted to promote these core Fresh and Easy values with a sense of fun. We transformed the boxes into individual characters, each one about to guzzle back a bowl of their favorite cereal. Their bold, graphic style is unique to the market and stands apart from the more visually cluttered branded competitors. To increase engagement and repeat purchase, and imbue the packs with Fresh & Easy's personality, we also created games, such as mazes and fun word-finders, to feature on back of pack.

P&W has a long-standing relationship with Fresh & Easy, having been key design partner since launch, and designed over a thousand SKUs.
"We are very proud of the new Fresh & Easy Kids' cereals range. There is so much choice within breakfast cereals in the USA, that it can be fairly bewildering for parents who just want to give their children a nutritious start to the day. Our work with Fresh & Easy has been all about helping US consumers to choose top-quality products. To come up with a set of designs that not only stand out at the fixture but also use the whole of the pack to add a real sense of fun to compete with the brands, is testament to the insight and ability of our design team."