Starbucks introduced a new feature to the Starbucks Card Facebook® App that makes it possible to buy a friend a treat from Starbucks without ever leaving Facebook. Available in the U.S. and Canada, users of the app now have the ability to load $5 to $500 directly onto a friend's registered Starbucks Card as a gift. The "Give a Gift" update to the Starbucks Card App takes the honor of being the 100th launched idea from the popular community site, My Starbucks Idea.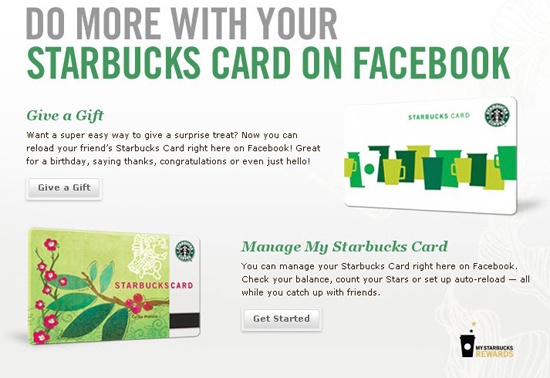 Launched in 2008, the My Starbucks Idea community encourages customers to share ideas, vote on them and discuss with other site members and Starbucks Idea partners. The community is 250,000 members strong and to date, customers have submitted almost 98,000 ideas. Customers can continue to contribute their ideas and join the discussion at www.mystarbucksidea.com. Other recent ideas launched include: offering Starbucks Card benefits at licensed stores, bringing back Salted Caramel Hot Chocolate, developing reusable cup sleeves and creating the Starbucks Card Mobile App for BlackBerry® smartphones.
First suggested in March 2008, the "I'll buy you a drink—remotely" idea gained momentum and was identified as a way to build on the Facebook Starbucks Card App, which launched in April 2010. This idea also had the eighth highest vote score out of nearly 98,000 ideas submitted by customers to My Starbucks Idea.
In addition to loading money onto a friend's Starbucks Card through the app, Starbucks fans can use the app to access and manage their Starbucks account, so they can register cards, check card balance, reload cards, edit profile information and check their My Starbucks Rewards status. To find the Starbucks Card Facebook App, visit www.apps.facebook.com/starbuckscard. To load money onto a friend's card, you must have the app and the friend must also have the app connected to a registered Starbucks Card.