Subaru has launched a little weird still very funny campaign with a lot of "wonderfully conservative" beige cars, which are nothing like the new 2011 Subaru Legacy model, promoted through this marketing push. The new viral campaign, dubbed «2011 Mediocrity,» is telling about a fake company which is producing the most ho-hum vehicles in the world, which are able to blend in with everything around.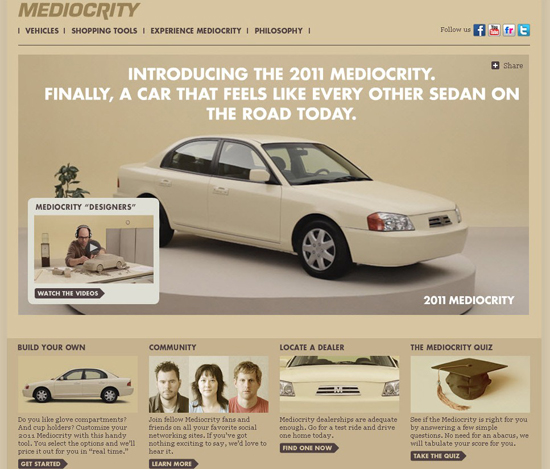 The boring automobiles (which are very similar to the old Kia Optima model) are manufactured by the non-existent Mediocrity Motor Company (MMC), which invites us to «join in on the dull conversation and keep up with the latest mediocre happenings» around. It also registered several accounts on the popular social websites like Facebook, YouTube and Twitter to be able to add more mediocrity to our life. Spots directed by Harvest's Baker Smith for the campaign, feature extremely boring people, who are sure that a no-brainer car, "so basic, so understated, you'll never have to worry about your blood circulating too quickly," is the best one to have.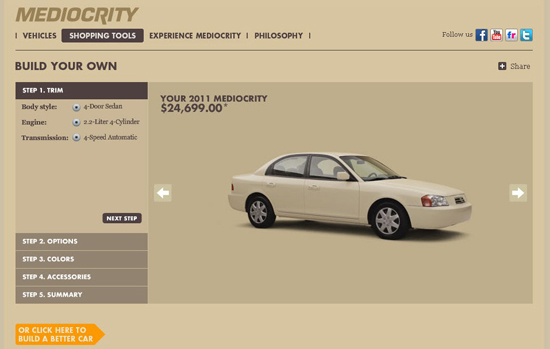 In the statute on the website, MMC says, "The Mediocrity mission is to manufacture the most mainstream mid-size sedan on the road today. Our company is extremely dedicated and passionate about «middle-of-the-road.» Each and every day, we strive for predictability, unoriginality and no-frills utilitarianism for all of your transportation needs. The 2011 Mediocrity will get you from A to B without anybody ever noticing, and that's a good thing." In the dedicated hub, hosted on the Subaru official website platform, users can 'upgrade' their beige auto with a range of additional dull features—the more of them you add, the higher the price is (it's rising simultaneously and users can see the changes). They also can compare three almost identical models and take a quiz to figure out how mediocre they are. On the vehicle customization page there's is also a link to the section with the 2011 Subaru Legacy, which has no speck of beige and is calling to «Fight Mediocrity.»
If you are allergic to beige, do not even try to watch the videos and visit the site—too much milk coffee palette for one campaign. Still, it can be used as a cure for those who prefer not to stand out: 15 minutes of surfing the website will make them love extreme and flamboyant things for the rest of their life.