Umbro will be the leading kit supplier for the newly reformed New York Cosmos soccer club, made famous in the 1970s as much for their star-studded fans off the pitch as the players on the pitch.
In the November issue of the FourFourTwo magazine, Pelé, one of the most famous players from The New York Cosmos' past and now its Honorary President, speaks about the excitement around the original club, "When we started to win, we had a really big bunch of names in the crowd: movie stars, sports stars, pop stars, politicians, artists… Robert Redford, Muhammad Ali and Mick Jagger all came. Andy Warhol, Elton John, Henry Kissinger too—every game, there was someone there. It was fantastic."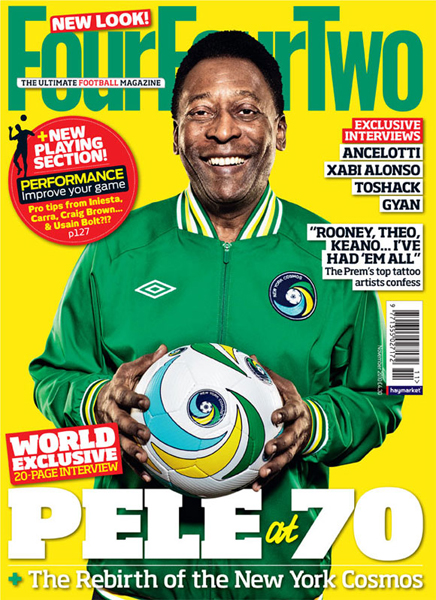 As part of the club's rebirth, Umbro has applied its celebrated football-tailoring ethos to a new on-field performance and off-field lifestyle line for The New York Cosmos club. The white home shirt, with the unique green and yellow collar, will be available in December (£49/$75). It's inspired by the one worn by its star players in 1977, including Pelé, but with the performance benefits of a modern football shirt. The wider range, including the green walkout jacket worn by Pelé on the cover of FourFourTwo, will be available in February 2011 (£70/$100) with further apparel and equipment pieces in the pipeline.
Trevor Cairns, Chief Marketing Officer for Umbro International commented, "Umbro was a partner of The New York Cosmos during the 1970s when they were unquestionably the world's coolest football club. It's a great opportunity to once again be involved with the club and we are committed to working with them to develop world-class soccer players worthy to wear the legendary New York Cosmos crest."
Relaunched in August 2010, The New York Cosmos is committed to helping improve the future of football with significant investment in grassroots and youth football, and providing elite coaching philosophies and training opportunities. The New York Cosmos home shirt will be available from December at www.soccer.com.