A plethora of brands create a range of products to pay homage to the cities around the globe—Coca-Cola's Fanta Absolut Vodka's vibrant bottle designs and Nike's collection devoted to five NYC's boroughs come as most notable examples of this 'geographical' movement. adidas is not an exception with its City Series editions, which celebrates a range of megalopolises with Boston, London, Tokyo, Paris, Oslo and more among them. Now, the brand decided to step out of the stores and pay tribute to one of the cities by a nice campaign, «We Are London,» which is dedicated to younger generation of pioneering and creative minds.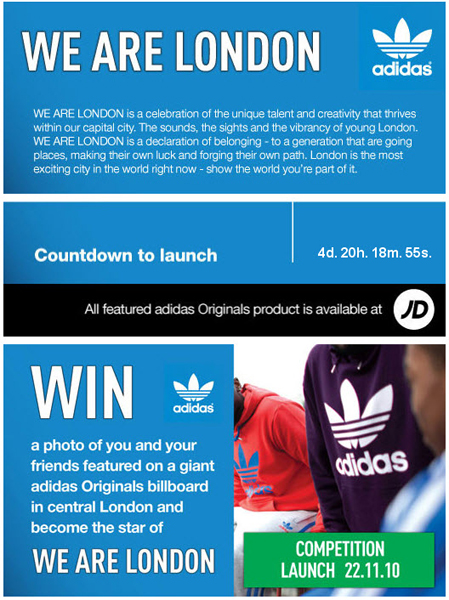 The brand has unveiled a tab on its Facebook fan page to kick off the project and host new additions, which will be introduced over the next days. As for now, the page features two videos of seven revolving around the theme. The fist of them showcases north London grime MC and producer Scorcher, who takes the viewers around his neighbourhood of Edmonton Green and tells about how the capital settings influenced his career and helped him mature as a musician. The second is revealing some of the local stars, who participate in the movement (the viewers are encouraged to guess their names—Bashy, Loick Essien, Maxsta & Devlin are among those who are in).
The brand also invites its fans to return to the page on November 22, when it licks off the competition, providing consumers with a chance to have their photos featured on a giant adidas Originals billboard in central London and become the star of "We Are London" movement. It also unveiled a feature which created personalized "We Are London" badges for Facebook.