The Doritos brand and Microsoft today unveiled the much-anticipated, fully playable Xbox LIVE® Arcade game versions for the Xbox 360® video game and entertainment system from Microsoft of 'Avatar Crash Course' created by Jill Robertson of Raleigh, N.C., and 'Harm's Way' created by Justin Carpenter of Ogden, Utah—the two finalists in the Doritos 'Unlock Xbox' challenge.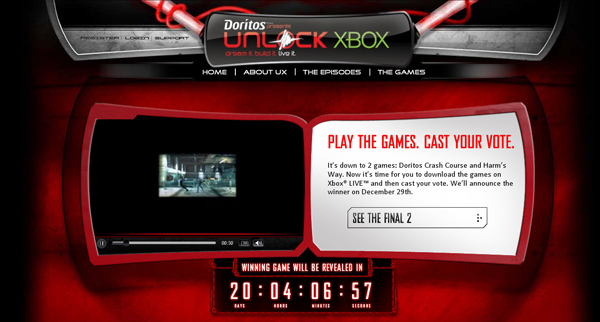 This one-of-a-kind competition invited fans in the United States to think of an Xbox LIVE Arcade for Xbox 360 game idea that brings to life the bold, intense spirit of the Doritos brand for the chance at the contest grand prize—a $50,000 cash reward and the opportunity to consult with Doritos on gaming for six months. Beginning today, fans can download and play each finalist's game on Xbox LIVE and vote for the grand prize winner to be announced live on Xbox LIVE on December 29.
This year's contest, which was first announced in August 2009, invited fans to submit their creative ideas in the fall of 2009. From there, eight quarter finalists were chosen and fans voted online for their favorites based on video pitches made to Microsoft. Then in early January 2010, the field narrowed to the top-three contenders who traveled to Seattle for one final pitch to executives from Microsoft and Doritos, where the selection of the final two concepts was made.
From January until December 8, the two finalists worked hand in hand with a renowned team of professional developers to transform their creative visions from paper to full Xbox LIVE Arcade games. From animation and music to the plot lines and characters, each game holds true to its creator's vision. The entire process can be experienced through an online documentary video series that fans can watch by visiting www.unlockxbox.com.
The Doritos Unlock Xbox challenge is one of many ways the Doritos brand continues to bring its fans access to unparalleled experiences. The brand's commitment to fan empowerment began with the Doritos 'Crash the Super Bowl' program, which has turned the brand's Super Bowl advertising over to its fans for the last five years.