While its rivals Guinness and Grolsch are releasing mini projects inspired by the upcoming Christmas celebrations, Heineken has made it big by introducing a campaign featuring a new global tagline. With a bunch of innovations launched this year to be rolled out heavily in 2011, the brand decided to change its 'Meet you there' motto highlighted in a series of hilarious adverts including the hilarious 'Walk-in fridge' spots for a more intriguing one, calling to 'Open your world'.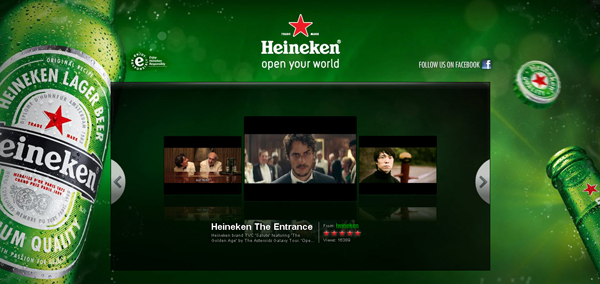 The campaign, which is now rolling out in Europe, features a series of spots, linked to the major ad in the set, dubbed 'Entrance'. The leading promotional video showcases a character, an elegant man with perfect communicational skills, who comes to a grandiose party and meets a lot of guests before he finally grabs the desirable green bottle. Despite the guy is offered Heineken right after he shows up at the party, he is not rushing to have it in his hand, and first wants to say hello to others (in a different way each time). The rest of the characters—Jackie Chan-like eastern martial artist, pro basketball players and two servants-turned-pianists Siegfried and Jean-Pierre—also appear in the following adverts.
Earlier, the brand has also unveiled the updated look of its iconic green bottles and cans with special tactile elements to be launched in Western Europe at the beginning of 2011 and across the rest of the world by 2012. "The new design features a unique curved embossment on the neck and back, which not only looks good, but also adds a pleasing to-the-touch feel, whilst a distinctive embossed mark acts as a stamp of quality and authenticity," says the press-release on the improved packaging. Who knows, maybe the look and feel of the updated bottles and cans will give beer fans a chance to 'Open their world'—and the next year is to show what kind of world it will be.