Levi's® Dry Goods, a new denim clothing store, opened its doors in Tustin, California last week. It's located in one of Southern California's most successful retail centers, which is a great place for the brand to present the whole variety of its products in all sizes and shapes.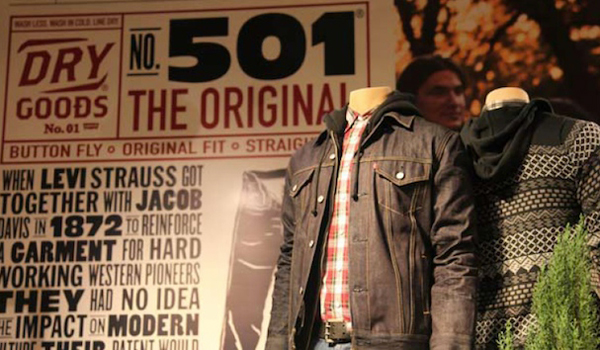 «It offers a broad range of Levi's® product with a shopping experience and design that allows you to easily get in, purchase and get out», say Levi's team about the concept of the store.
Due to a spacious inteior of the shop, one can find a striking variety of clothing for all ages and tastes: starting with skinny and trendy cuts for those under 25 y.o and up to more classic ones. Here you can also find a surprising choice of non-Levi's items for sale like HillSide scarves and bandanas, Steele tote bags, and Blk Pine Workshop bags.
The store features extra friendly approach to customer service, which includes friendly shop assistants who are always willing to help. Also, perhaps for the first time in the history of denim clothing store, jeans of several cuts are placed into a bar so that a shopper may compare the sizes and shapes, which immediately received positive feedback from the audience. One of the shop reviewers commented that «it was nice to see the styles lined up flat on the bar so you could compare what the cuts look like….overwhelmingly friendly».