With the introduction of the new brand YZ, Connecticut-based Tower Laboratories—a division of Towers Brands and major manufacturer of private label effervescent products including denture cleaners, analgesic antacids, and bath tablets—is quenching consumers' ever-growing thirst for proactive health products.
Seeking a way to extend its proprietary effervescent technology, Tower turned to strategic branding firm CBX to help innovate new product ideas. Through extensive ideation sessions, CBX helped zero in on the category of proactive health and hydration for application of Tower's technology.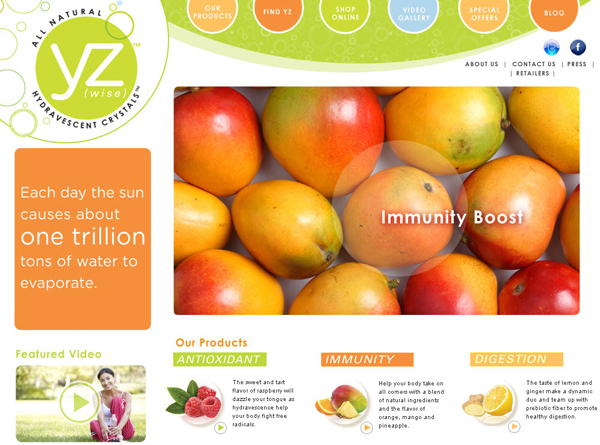 The brand that grew out of this research, named YZ (pronounced 'wise'), consists of 'All Natural Hydravescent CrystalsTM' that are added to water to proactively foster good health. The line consists of three products: Immunity (Orange Mango Pineapple), Antioxidant (Raspberry Green Tea) and Digestive Health (Lemon Ginger). Akin to a healthier Crystal Light, these all-natural effervescent crystals contain only 20 calories per serving, support a variety of health issues and feature electrolytes to aid hydration.
Once the concept was solidified, CBX brought the brand to life by creating the positioning, logo, name and package design and Outthink, Tower Brands' marketing firm, developed innovative ways to introduce it to the target audience.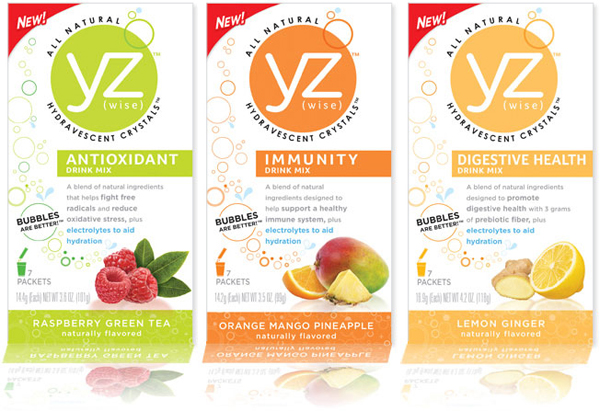 YZ flavors are packaged in a box filled with seven flavor 'stick' packets. A color-coded logo and benefit bar—green for the Antioxidant packs, orange for the Immunity packs and yellow for the Digestive Health packs—makes it easy to understand the benefits and clearly differentiate the products from one another. Luscious and natural fruit photography further communicates each flavor, while a narrative about the benefits of bubbles runs along the side of the package.
YZ products are currently available online at the www.yzchoice.com site created by Outthink, in Connecticut specialty retailers and in health clubs and Pilates studios through the country. Outthink, in conjunction with a sports nutritionist, has launched an innovative grass roots campaign that effectively leverages social media marketing, online sampling and couponing opportunities.