Burger King Corp. announced at the end of last year it planned to overhaul its 12,000 restaurants worldwide in order to bring an updated experience to its customers and boost sales. According to Boston.com, «the new interiors include rotating red flame chandeliers, brilliant TV-screen menus, and industrial-inspired corrugated metal and brick walls».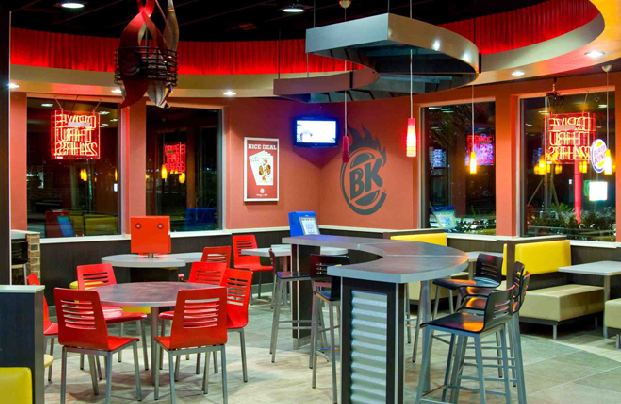 This new design dubbed '20/20′ is sure to attract young men who constitute the core audience of Burger King, which has already proven to be a successful measure: so far the remodeled restaurants in the US have been reporting a 12-15% revenue increase.
At the beginning of the year, the first Canadian restaurant opened its doors after the renovation. Burger King Restaurant of Canada, Inc. today announced the grand re-opening of the new BURGER KING in Thunder Bay, Ontario.
The flagship location in Thunderbay area offers a variety of self-seating options for guests and showcases plethora of modern metallic finishes, complemented by ceramic tile with rustic wood and concrete finishes.
The new restaurant is also equipped with the new Duke Flexible Batch Broiler, maximizing cooking flexibility while reducing operational and energy costs, along with high-efficiency T8 lighting, making the Thunder Bay location the most cutting edge BURGER KING®Canada restaurant yet. Other features include LCD menu screens, an enhanced drive-thru experience and 24-hour operating hours to best serve guests.
«We are proud that Thunder Bay was selected as the first Northern Ontario location to showcase the new 20/20 look,» said Raj Varman, general manager, BURGER KING® Canada. «Located right in the heart of the city, our new restaurant is a perfect spot to enjoy a burger and catch up with family and friends.»