Following a review of more than 5,600 creative submissions Doritos and Pepsi MAX revealed the names of the 10 finalists in the Crash the Super Bowl challenge. These 10 finalists will go on to compete to be one of six consumer-created ads—three for Doritos and three for Pepsi MAX—airing during the Super Bowl XLV broadcast, February 6, on FOX.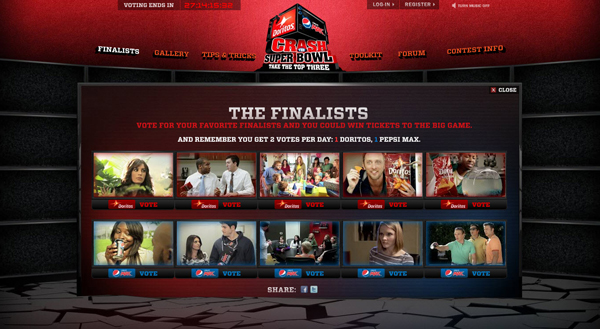 As the contest enters its next phase, Doritos and Pepsi MAX fans in the United States are invited to vote for their favorite ads, helping to ultimately decide which spots air on the Super Bowl stage. If during the Super Bowl, consumer-created Doritos or Pepsi MAX ads sweep the top three rankings of the USA TODAY Ad Meter, their creators will take home a shared $5 million prize. In addition, the fan who creates the highest-ranking Doritos or Pepsi MAX ad will win a guaranteed contract to create an additional ad for the two brands in 2011.
«As we re-launch Pepsi MAX, we are thrilled to be returning to the Super Bowl as part of the Crash the Super Bowl contest for the first time ever,» said Angelique Krembs, vice president, Pepsi Cola Marketing. «We're excited by the creativity of the ads submitted by our Pepsi MAX fans. And as we enter this next phase of the contest we're eager to see which ads America will pick to run during the Super Bowl broadcast.»
Beginning January 3 through January 31, 2011, fans can vote for their favorite submissions, with the most-voted ads taking four of the six spots that air during the Super Bowl – two for Doritos and two for Pepsi MAX. In addition, Doritos and Pepsi MAX executives will each select a winning spot for their respective brands, bringing the total spots airing on game day to six. There are four ways for fans to vote this year—through the official contest website, www.crashthesuperbowl.com, through their smart phones at m.crashthesuperbowl.com, via Xbox LIVE® and through banner advertisements on select websites. Votes can be cast once a day, per platform, per brand.
To encourage fans to vote, Doritos and Pepsi MAX will give away two pairs of Super Bowl tickets every day of the voting period to consumers who make their selections through the official program website. More information about the four voting platforms and details about this vote-and-win offer, including official rules, are also available on the website.