PepsiCo's Frito-Lay North America division said that approximately 50 percent of its product portfolio will be made with all natural ingredients, including three of its biggest brands, Lay's® potato chips, Tostitos® tortilla chips and SunChips® multigrain snacks. The products made with all natural ingredients do not have any artificial or synthetic ingredients, and they do not contain any artificial flavors or artificial preservatives, or ingredients such as monosodium glutamate (MSG), yet still have the great taste consumers expect from Frito-Lay.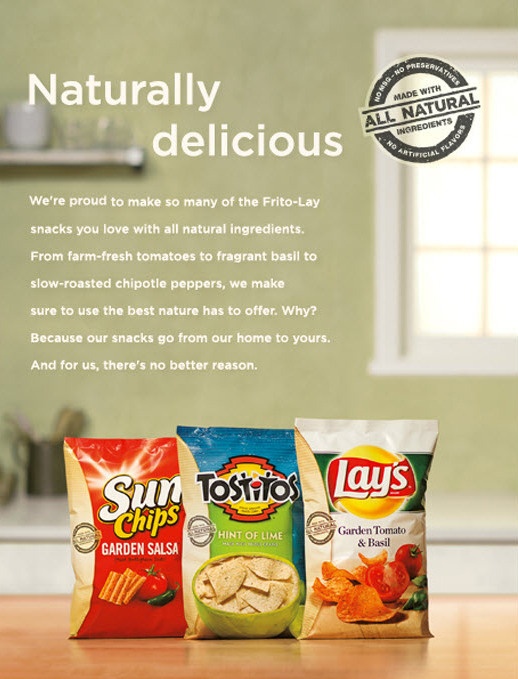 «At Frito-Lay North America we want to provide our customers with a broad portfolio of snack options that taste great and are made with real food ingredients,» said Ann Mukherjee, senior vice president and chief marketing officer, Frito-Lay.  «Many of the unflavored snacks in our portfolio are already made with all natural ingredients, and we've focused on expanding our portfolio of products with all natural ingredients to include more of consumers' favorite flavored products.»
More than six dozen varieties of Frito-Lay products with all natural ingredients are now becoming available at retailers nationwide with more products launching throughout 2011. The reformulated products will be easily identifiable in stores with a stamp on package.
To support the transformation, Frito-Lay is undertaking the largest integrated marketing campaign in the history of the company. The portfolio-focused, 360 degree marketing campaign was launched January 1 during the Tostitos Fiesta Bowl and includes a significant focus on digital and social mediums, television and print advertising as well as in-store promotions.
In 2011, Frito-Lay will use advertising and marketing to drive consumers to Facebook.  Most of the advertisements—and for the first time ever, packaging— will list branded Facebook pages. Frito-Lay will claim the broadest portfolio of consumer products that include a Facebook URL on packaging to date.