New year should start with good news. LG committed to spreading only positive information to prove that problems are not the only things that are happening in the world today. On December 14, 2010, the company installed a huge 81 feet around the corner by 47 feet tall billboard on Times Square, NYC, above the corner of 45thStreet and 7th Avenue, to share good information with others with the help of LG's first-ever animated Good News Ambassador. The digital character is encouraging people to send their own inspiring messages via SMS and tweets, giving them the chance to see their name and news in lights high above Times Square.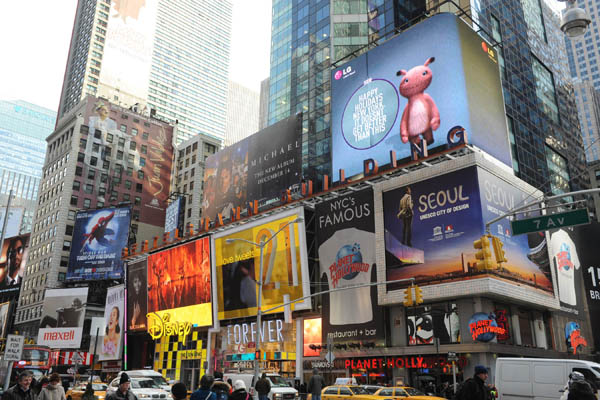 "Life's Good is much more than a motto to us," said Wayne Park, president of LG Electronics USA, Inc. "We want the people of New York and travelers from around the world to look up at our new LG billboard and smile, knowing that there is still a lot of good in the world."
According to a recent consumer research (the national survey of 1,000 U.S. residents), six in 10 of Americans even know where to look for good news anymore and 83 percent is saying they are suffering because of good news shortage with half of the respondents confessing they can't remember the last piece of good news they've heard. The LG's initiative is designed to help solve this problem.
People below the giant five-storey screen and folk from around the globe were encouraged to send their messages to the billboard both to share positive attitude with New-Yorkers and to support a good cause. For each correspondence it receives, LG promised to donate one dollar to Grow to Learn NYC, the City's school gardening initiative, up to $25,000 to foster community engagement in school gardening to teach local youngsters positive food habits and environmental attitudes, as well as increase their physical activity.
The innovative platform was developed by the Young & Rubicam agency.