The hilarious series of viral spots featuring Isaiah Mustafa who promoted Old Spice shower gel scooped a plethora of industry awards (including the Grand Prix for film at the Cannes Lions International Advertising Festival) last year and helped the 7-decade old brand double the sales. The 'The Man Your Man Could Smell Like' commercials as well as the answer videos on YouTube were extremely popular, and when the brand said that Isaiah had left the campaign, at heart people believed that the Old Spice Guy would be back. And he has done it. Old Spice and Wieden+Kennedy Portland, the agency behind the campaign, announced the return of the much-loved Guy, who will be featured in new adverts to air the day after the Super Bowl.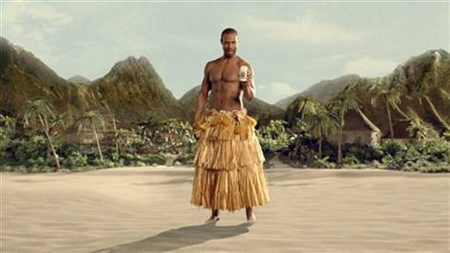 Photo: Associated Press
«We felt like we could build some excitement behind this latest launch, letting people know we're bringing Isaiah back, and continue to reward our fans across social media,» commented James Moorhead, brand manager for Old Spice.
The news was also posted to Old Spice channels on Facebook and Twitter. The message "Hello Ladies! As well as men, mammal beasts and the mighty sequoias of the redwood forests" was coupled with a YouTube link to a video, in which Mustafa explains why he's back. As it turns out, it's not because he's forgotten to take his jacket, but that he is going to promote Old Spice Fresh Collection, a line of deodorant, body spray and body wash, which was inspired by some of the freshest places on the planet. The Old Spice Guy will star in all-new two 15-second and one 30-second adverts (in one of them, he'll be wearing a long grass skirt) as well as in print and digital media speaking about the brand's new toiletry, which takes us to a "scent vacation» in exotic places like Cypress, Denali, Fiji, Matterhorn and Komodo.
W+K adds some details to what the Guy dashed out in the trailer spot. "In true Old Spice fashion, we will reward our fans with the campaign first. This time around, we're actually handing the new commercial to one Super Fan several days before it premieres on national TV on February 7, letting them decide how and when the public will see the new campaign," says the agency in its press release.