It's not every day that five icons from the candy world decide to drop everything and venture to the Great White North, but their bags are packed, and they're ready to go. Over the next ten months, Canadians are invited to join M&M'S® Spokescandies Red, Yellow, Blue, Orange and Miss Green as they criss-cross the nation and follow them on their new Twitter account, @mmscanada. The Spokescandies will tweet their travels, post photos and postcards, and ask Canadians to tell them where they should head to next.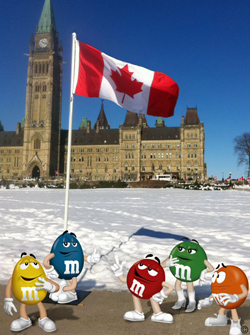 The Spokescandies will visit Canadian cities, famous landmarks and hidden gems off the beaten path (and, knowing Red, he'll want to check out a few hockey games along the way), but they're looking for consumers' advice to help plan their trip. The brand asks its fans to help the M&M'S Spokescandies discover the best of Canada by tweeting your recommendations to @mmscanada using the hashtag #CanadasBest, or posting to the M&M'S-Canada Facebook Page wall.
The brand also invites its fans to channel their inner Spokescandy and determine which character they most resemble by taking the new M&M'S—Canada Facebook Spokescandy Quiz.
«This is my first big trip across Canada. I'm excited, but anxious—what if I forgot to pack something important?? And I hear that Canadians REALLY love their M&M'S Candies, so maybe preparing for the cold should be the least of my worries!… —Gulp—» says Orange, M&M'S Spokescandy.
«We were a little nervous when Yellow asked us if he could travel across Canada but soon realized that we needed to let our Spokescandies get out into the fresh Canadian air and experience everything we have come to love about Canada! Help us map out their journey by sharing travel tips with us on Facebook and Twitter,» comments Meghan Jackson, M&M'S Brand Director, Mars Canada Inc.