Citroën in cooperation with France-based aerodynamic simulation software company EXA announced EV Design Challenge—a contest for students of Royal College of Art in London. The future designers were tasked with creating a compelling ultra-compact model that could establish a unique Citroën e-vehicle aesthetic for the future. In course of the challenge, the car manufacturer unveiled some key industry figures to the students, thus providing them a better insight into car design industry. It also organized a trip to PSA design center — where the most eye-catching concepts of Peugeot and Citroën's models are born.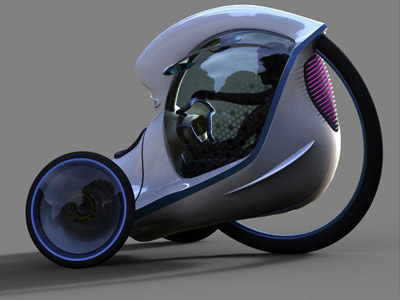 Image: www.europeanmotornews.com
By now, the winner has been announced. The main prize goes to Heikki Juvonen for his design of E-3POD. According to europeanmotornews.com, this «single-seat creation is a bold and engaging take on an urban three wheel electric vehicle.  The distinctive, aerodynamic styling features two smaller wheels at the front with the driver sitting inside a larger third wheel with an innovative hub-less design».
The 1st place winner is awarded with 6th month employment contract at PSA Design Centre in Paris.
Philippe Holland, Responsable Style Graphique at Citroën, says: "We're delighted to be involved in this important RCA project.  The students have produced some truly exceptional ideas for the future design of electric Citroën vehicles.  This type of powertrain is increasingly recognised as an important solution for economically and environmentally viable urban transport; so it's fantastic to see the electric visions of these potential car designers of tomorrow."