The Doritos 'Pug Attack' user-created commercial about a dog which goes for chips scored the No.1 ranking in the 2011 USA TODAY Super Bowl Ad Meter rating, bringing its creator, JR Burningham, one million dollars as a prize from PepsiCo. This year's top-five also includes by Bud Light 'Dog Sitting' ad (which received 8.5 Ad Meter Score just like the winning spot), Volkswagen's little Darth Vader commercial, Doritos 'House Sitting' (created by Tynesha Williams, won $400,000) and Pepsi MAX 'Love Hurts' spots.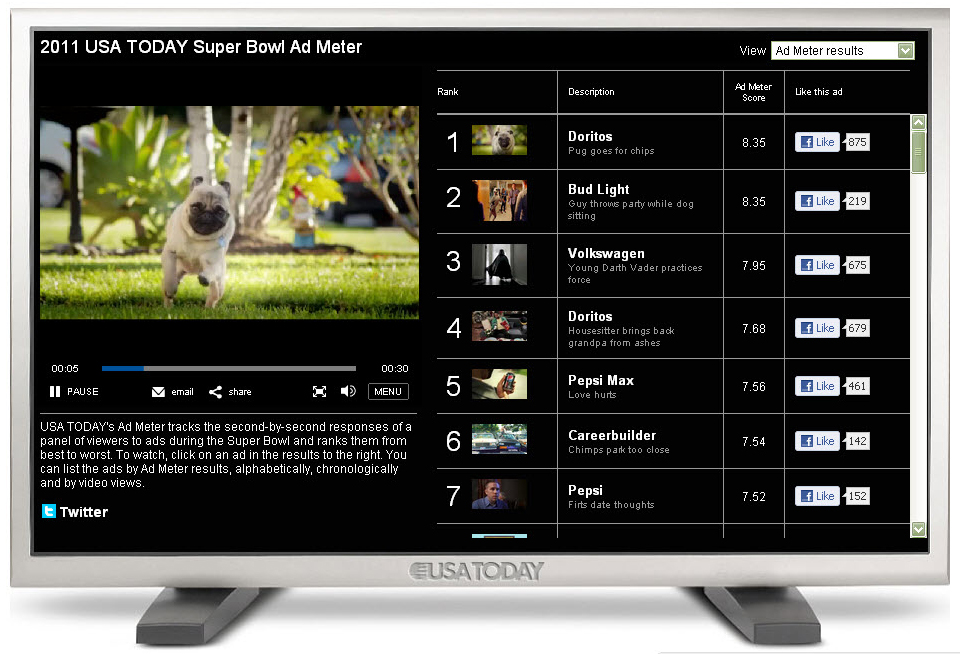 Illustration: USA TODAY
In September 2010, Doritos and Pepsi MAX launched the 'Crash the Super Bowl' competition and asked their fans to make new adverts to be aired during the Super Bowl XLV broadcast. Having got 5,600 submissions, with the help of the public voting they shortlisted the ads to just six which received airtime during the big game.
The brands promised to give $1 million to the ad which would sweep the No. 1 ranking ($600,000 and $400,000 cash prizes were to be given to the creators of the ads which take the 2nd and the 3d place respectively). Plus, they announced that if their ads would take top three places, each of the commercials would get additional $1 million. As it turned out, two of the finalists could reach the top, and so PepsiCo gave away $1,400,000 in prizes to  Burningham and Williams.
For aspiring filmmaker JR Burningham and his fiancee/business partner Tess Ortbals, entering Crash the Super Bowl meant the possibility of turning their shared dream into a reality by creating a winning ad together. With little time and money ($500 only), 31-year-old JR created 'Pug Attack,' which features a Doritos tortilla chip-obsessed pug whose master completely underestimates the dog's ability to get a taste of its favorite snack. A friend's goofy pug Oko-nono is featured in the ad, and in fact inspired the spot which took several 'pug wranglers' and takes to complete.
"Ad Meter tracks the second-by-second responses of a panel of viewers to ads during the Super Bowl and ranks them from best to worst," says the description to the rating. This year, Hyundai ended up in the bottom of the list with its two commercials for Sonata Hybrid and Elanta. In 2010, the Snickers commercial featuring Betty White was the leader of the chart with 8.68 points.