Doritos is ready to take consumer engagement in Canada to a new level with its latest epic digital promotion, 'The End' which will bring one lucky Doritos fan behind-the-scenes like never before to actually become a part of one of one of the best-loved snack brands.
Launched on February 4, Doritos' The End Contest challenges Canadians to take hold of the brand in a completely new and different way. Thу brand is launching two new flavours (Flavour A—Onion Rings N' Ketchup and Flavour B—Buffalo Wings N' Ranch) and is asking consumers in Canada to decide which flavour should live and which should be destroyed; or, put another way, be forever removed from store shelves.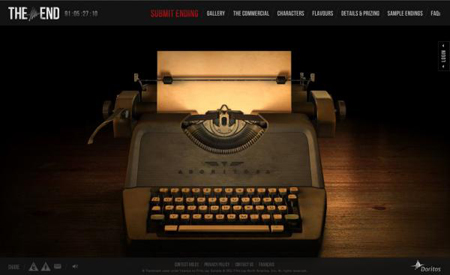 Until March 13, consumers can visit www.writetheend.ca, and compose the ultimate ending to an unfinished Doritos commercial that will destroy one flavour in a highly creative way. The prize is worth the effort: $25,000, 1% of future sales from the flavour remaining on shelves, the unfinished commercial completed with the winning ending.
As submissions are entered, the fate of all endings is put into the hands of voters, who will ultimately choose fourteen finalists—seven finalists from Flavour A and seven finalists from Flavour B. Then an expert judging panel will be tasked with the responsibility of critiquing and choosing the final winning ending. The winner will be announced when the finished commercial is revealed live for the first time.
The winner of contest will also hone his or her creativity to become the first member of the Doritos Think Tank, an exciting new extension of the Doritos brand team that engages consumer insight to keep the brand on the cutting edge of cool. This lucky insider will be flown to Toronto for three non-stop Doritos-filled days of brand integration and will then be given the opportunity to participate in monthly Think Tank projects for the rest of the year.
The new Doritos flavours are available across Canada in distinctively-marked white and black bags.