Jim Beam® announced the findings of their 'Boldest Towns Survey'—a cross-country quest to identify the boldest towns in America.
Based on the survey, Spokane, WA edged out 99 other towns across the country to top the Boldest Towns list. When they're not arm-wrestling strangers (26% have), 'Spokanites' are taking chances in various aspects of their lives: nearly half of those questioned have tattoos and more than one in three have dated a friend's ex. They're also taking chances in the workplace: 59% have called in sick to work when they weren't; 57% have left their job without another one lined up; and 39% have started their own business.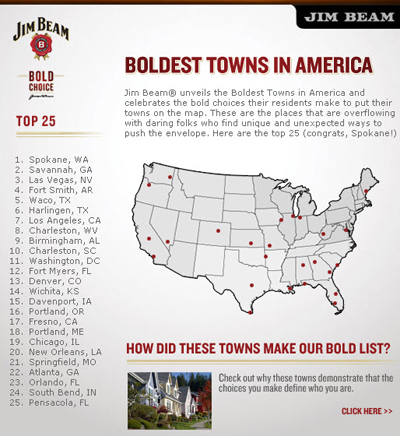 By picking the brains of more than 10,000 men in the top 100 largest cities nationwide, Jim Beam discovered that guys are finding unique and sometimes unexpected ways to push the envelope. For example: nearly half aren't afraid to switch careers, 1 out of every 4 guys has piercings, nearly 8 in 10 guys have grown a mustache, more than half play 'hooky,' almost half of guys mix business with pleasure (44 % across the country have dated a co-worker, and 7% have gone out with their boss).
Guys in the Top 25 Boldest Towns:
Answer the call to serve: at least 40 % in Charleston, SC (#10), Waco, TX (#5) and Pensacola, FL (#25) have joined the military.
Are comfortable standing out: a vast majority, including a whopping 87% in Fort Smith, AR (#4) have sported a mustache either  for charity, as part of a joke or bet, or just because it looks good. More than 20% of men nationwide—and nearly 40% of Angelenos (#7) surveyed—have got a tattoo.
The survey kicks off a multi-platform 'Bold Choices' campaign from Jim Beam with TV, print and digital advertisements created by StrawberryFrog. This effort represents a reinvigoration of the Jim Beam brand with a year-round ad campaign. One of the new television commercials features iconic American actor Willem Dafoe and examines Bold Choices and the different places one decision can take you.