Sofia Coppola, who directed the lovely commercial for Miss Dior Chérie in 2008 featuring model Maryna Linchuk, is back with a new advert for the brand, this time starring 'The Black Swan' film's leading actress Natalie Portman. The new campaign, which was announced back in December 2010, includes a series of prints as well as a TV advert to be officially launched in March.
The news about the ad comes directly from Sofia Coppola's Tweeter feed, where she shared a link saying 'My Christian Dior ad i did with Natalie. Enjoy.' The advert features Natalie and a young man in romantic hazily-lit settings of a French apartment, kissing and hugging to the cult song 'Je T'aime Moi Non Plus' by Serge Gainsbourg and Jane Birkin. In the video, the gorgeous Portman, an epitome of tenderness and feminine style, is living a life of a happy girl in love, taking a bath while wearing sunglasses, and playing with her man's silk black bow and a square bottle of the fragrance with floral and fruity notes. According to the information on NataliePortman.com, the footage for the ad was filmed around July, 19 last year.
Prints with Portman, covering her breasts with both hands and giving a charming look over her shoulder, were shot by photographer Tim Walker—they were unveiled in January so that the brand's fans could be able to have a first look at the campaign breaking soon.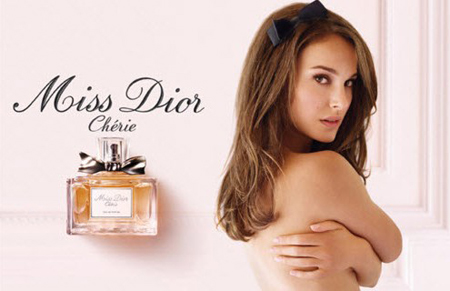 Image: www.natalieportman.com
The new advertisements follow another ad saga by acclaimed directors (David Lynch, Olivier Dahan, Jonas Akerlund and John Cameron Mitchell) dedicated to Lady Dior and starring Marion Cotillard. Next month, Darren Aronofsky will also present his new advert for Yves Saint Laurent's Perfume 'La Nuit de L'Homme' featuring Vincent Cassel.