Rihanna and Dita Von Teese have joined Thierry Henry, the star of the original Renault Clio Va Va Voom ads, in a sassy new TV ad campaign. Launched February 7, the commercial also stars screen icons Audrey Hepburn and Marlon Brando and features music legend, David Bowie.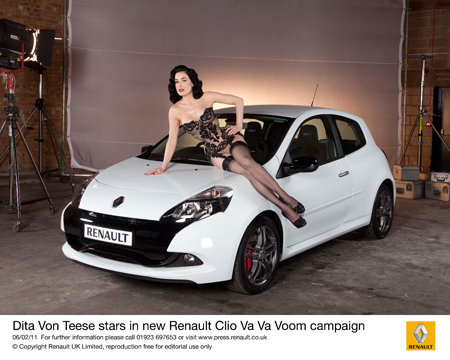 The sensational new 40-second ad created by Publicis London asks—»What is Va Va Voom?» at the opening night of an ultra-cool, secret underground exhibition. We move through it with the guests, who include Thierry Henry, and see a series of exhibits which show each celebrity and explore the subtleties of the indefinable quality of their Va Va Voom. "Is it more?"—asks the film, as we see Audrey Hepburn in 'Breakfast at Tiffany's', "Is it less?"— Dita Von Teese performing burlesque, "Does it smoulder?"—Marlon Brando in his cult film 'On the Waterfront', "Does it burn brightly?"— we see a tattoo of David Bowie, "Is there a Queen of it?"—Rihanna in a crowd of paparazzi surrounding her in the new 'S&M' video. The final installation is a white Clio Renaultsport, the epitome of Va Va Voom, majestically suspended from the warehouse roof in a dramatic exhibition space.
The original Va Va Voom ads starring Thierry Henry struck such a chord that the phrase entered the Oxford English Dictionary in 2004, as 'the quality of being exciting, vigorous and sexually attractive'. Before Va Va Voom came the equally phenomenally successful series of 'Papa and Nicole' ads.
Phil York, Renault UK Marketing Director, said, "We've filmed a brand new Renault Clio Va Va Voom ad because the campaign is still so popular after 5 years off the air.  Rihanna and Dita are the current queens of Va Va Voom, so we asked them to show us exactly why. But we couldn't make a new ad without Thierry and he looks pretty impressed."
The music is a mix of Rihanna's 'S&M,' Clare Maguire's 'Ain't Nobody' and David Bowie's 'Space Oddity.'