Henkel distributes the deodorant and body spray assortment of the mainstream brand Right Guard—comprised of five sub lines—in Great Britain. Until now the appearance of the fifth-largest market player was perceived as manly and powerful, but also as aged and a bit heavy. Additionally, the brand did not stand out strongly enough at the POS. For this reason Right Guard required a relaunch. The starting point of the relaunch was the best-selling basis range and the woman's range.
Based on a visual audit of a variety of different deodorants on the British market, trends of the "new man," and the brand recognition of Right Guard, The Brand Union defined a new, extended brand message. Now Right Guard is positioned as a deodorant series for real, stylish, and multifacetted men, and promises both power and effectiveness. Starting out from this reworked positioning, The Brand Union developed a design grid and modified the logo. A unifying foundation defines the Right Guard basis range, Woman, Active, X-TREME Bodyspray, and X-TREME Dry. This was adapted individually for the sub ranges and the different scent varieties in order to simplify the user's product orientation. In total, the range now appears fresher and clearly structured, but also remains manly and powerful. Of particular note is the introduction of a vertical brand within Right Guard's X-TREME brand.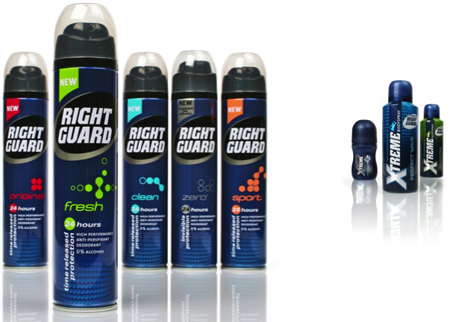 The main goal of the relaunch was to revive and rejuvenate the brand. Moreover, the entire range had to be structured and its shelf impact strengthened. A particular challenge with regards to the shelf presence was that Right Guard products appear on different shelves (Deodorant shelf and the Men's cosmetics shelf). While maintaining and expanding the target group, a new market idea was to be developed, one based on the positive power and effectiveness of Right Guard and one that lends the product another purchase incentive.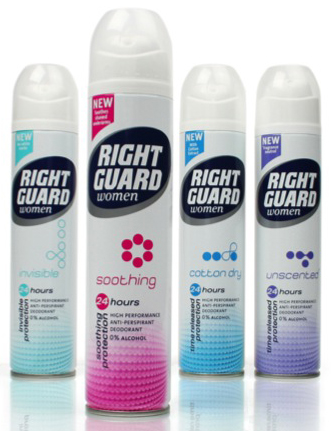 The extended brand message and the new designs were confirmed positively through comprehensive tests; Right Guard was taken as much more unique, desirable, and powerful. The shelf impact was significantly improved. And the X-TREME range is now the starting point and benchmark for additional Henkel products.