Asda Magazine, published by Publicis Blueprint, has seen an increase of 5% in its readership, according to the latest National Readership Survey (NRS). Readership has grown from 5,101,000 (January—June 2010) to 5,358,000 (July—December 2010) according to the figures, released on February 25.
The latest results follow Asda Magazine's leapfrogging of Tesco Magazine in the recent ABCs (released February 2011), to become the UK's fourth biggest customer publication by circulation. Asda magazine contributes a sizeable £260m to the grocer's business each year, according to research conducted in 2010.
The Publicis Blueprint publication has recently welcomed a new editor, as experienced glossy magazine journalist Coralie Dorman took the reins in September last year. In January of this year, digital specialist Maxine Clayman also joined the team as online editor.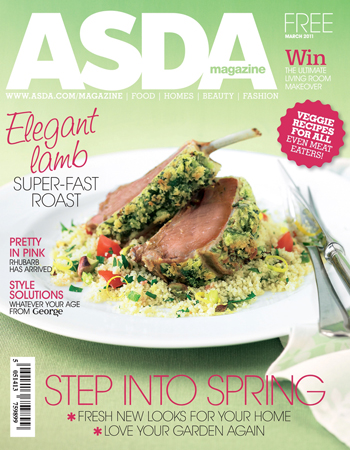 Ali Carswell, National Advertising Team, Publications/Brand Guidelines at Asda, commented, "We're delighted with the latest NRS figures—especially as they follow hot on the heels of particularly strong ABCs. It's great to see Asda Magazine going from strength to strength—we strive to keep content fresh and relevant each month and it's rewarding to see even more of our customers enjoying and engaging with it."
Julie Goodair, Group Account Director at Publicis Blueprint, added, "2011 has got off to a great start for Asda Magazine—it's brilliant to see our audience growing. Key is to keep innovating, both online and offline. Moving up to fourth in the Customer Magazine ABCs and seeing an increase of 5% in the NRS proves that we're hitting the right note for readers."