R/GA and Crispin Porter Bogusky alum to lead social media strategy
Co Collective announces the hire of Conrad Lisco as Head of Community Experience, effective April 4. He departs from R/GA. Lisco's background includes expertise in traditional marketing, mobile and social media. At Co, Lisco will be responsible for helping clients craft the strategy and structure around social media. He will report to co-CEOs Ty Montague and Rosemarie Ryan.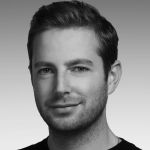 Photo: Conrad Lisco, the newly appointed Head of Community Experience at Co Collective
"We're thrilled to welcome Conrad to Co's expanding team. He's an amazingly innovative thinker and has deep, native understanding of the space," said Montague. "A lot of what we are doing with clients involves actually helping them restructure themselves for the networked world. Conrad's expertise in the social space and, specifically, the work he has been doing with big brands like Walmart make him the perfect person to head this new practice area for us.»
Lisco joins Co from R/GA where he served as group director of social media and guided the delivery of social media strategy and innovation for a roster of brands while working in close collaboration across disciplines. His additional experience includes work for agencies such as Kirshenbaum Bond Senecal + Partners, Berlin Cameron United and Crispin Porter Bogusky. Lisco's brand experience includes work for Nike, Walmart, Coca-Cola, Microsoft, Volkswagen and Moët Hennessy.
Lisco co-founded the social media-based project Town Holler, which leverages the location-based mobile platform Foursquare. Town Holler lets a live event bring together the most active Foursquare users. The most recent Town Holler meet up took place at this year's SXSWi. More information can be found at http://townholler.tumblr.com/tagged/sxsw.
"I've been following Co since they launched," Mr. Lisco said. "Their open, collaborative model is aligned with the future of the social web. When the opportunity presented itself, I couldn't turn it down. I'm also really looking forward to working more closely with Richard Schatzberger, who I co-created Town Holler with two years ago."
Co Collective, a story-led New York based innovation collective, launched in September 2010 by Ty Montague, Rosemarie Ryan, Neil Parker (Head of Business Strategy) and Richard Schatzberger (Head of Technology Experience) to help companies innovate more efficiently and create meaningful relationships with their customers in a networked world.
More information is available at www.cocollective.com. Follow at @Co.