On March 2, Costa, the biggest cofee retailer in the U.K., announced its plans on launching a new chain of self-serve coffee bars for the customers who want a high-quality coffee on the go.
This announcement was made yesterday after it was reported that Costa had aquired Coffee Nation, a chain of self-service coffee bars across the country. It is understood that Coffee Nation facilities and equipment will serve as a terrific platform for Costa Express. According to the official press announcement, the first bars of Costa Express chain will start operating in June 2011.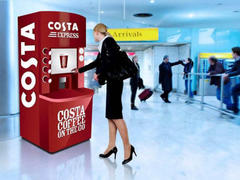 Image: www.bighospitality.co.uk
The retailer says, it plans to open about 3,000 self-serve coffee bars in the next 5 years. Such venues will be located in supermarkets, motorway service areas, railway stations, hospitals and universities as well as other busy public spaces.
The coffee served in the self-service Costa chain will be brewed from freshly roasted beans. Upon customer's option, it will be available with or without milk.
Managing Director of Costa John Derkach commented on the company plans, "Costa has transformed the coffee shop business in the UK and has been voted the nation's favourite. Making great tasting coffee available to customers in a hurry is now a major focus for us. Costa Express will deliver on both counts."
By saying this, Mr. Derkach referred to the last year's survey initiated by the brand, according to which Costa was preffered over Starbucks "by 7 out of 10 coffee lovers". As reported earlier, the results of the survey gave groundings for the ad campaign launched by Costa in 2010 taglined 'WE MAKE IT BETTER' to emphasize the growing competition between the two renowned coffee brands.